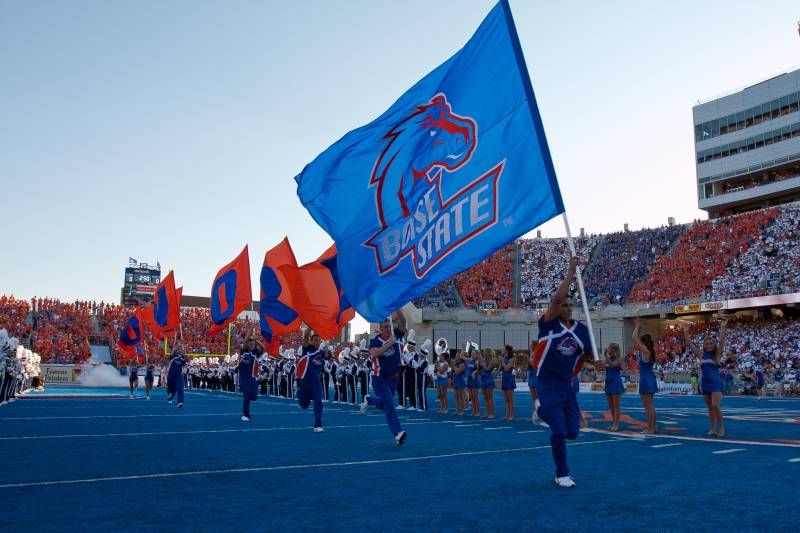 The American Athletic Conference is down a member after UConn left to the Big East to save its basketball program. Many have speculated on possible additions ranging in programs from coast to coast and even down to the FCS level. Last week I took a look at JMU and I previously addressed BYU. The fact of the matter is, if there was an obvious add that would provide instant cache and eyeballs, it would've been done already. And since there is nothing else to really talk about when it comes to the AAC, I figure why not keep going and look at some more potential schools.
Today I want to focus on Boise State and what the Broncos bring to the table. They too have their pros and cons. It's no secret UConn was exploring its options and I am doubtful the AAC commissioner wasn't already planning ahead of time. Every off-season there was a rumor UConn wanted to leave. Contingency plans were outlined and program
But alas, this post is about Boise State and why they should and shouldn't be considered for AAC membership.
---
Several Unknowns
MONEY
This where realignment talk begins and ends. What are the particulars? Boise State has a sweetheart deal with ESPN worth approximately 2.9 million, compared to the rest of the Mountain West Conference members who reel in 1.1 million in tv revenue. The situation is tricky and has created tensio with other members who don't get their own network coverage and lack the same prime time games.
Boise State firmly believes they are deserving of their elevated status given their successes in the WAC and Fiesta Bowl appearance. They've held conference titles and consistently bring in the highest viewed MWC games. Again, that's in part to ESPN showcasing Boise State with it's own deal.
I don't want to get too deep into contracts and the politics about it. If the MWC is able to negotiate 2-4 mil per school, and by all accounts they should, then jumping to the AAC provides little monetary incentive. No one really knows how those negotiations are going, but if they stay put at 1.1 million per school or go even lower and with Boise receiving 1.8 million in additional revenue with their tv deal, the incentive may be there. The MWC did lose their bowl tie-ins to the B1G and SEC.
If you would like to read more about the ongoing contract negotiations and the decisions the MWC must face, follow the links:
---
WHAT HAVE YOU DONE FOR ME LATELY??
In the past 4 season the Broncos have lost 3 or more games and have played themselves out of NY6 bowl contention in each of those seasons. They've struggled with coaching changes and they have been unable to maintain the same name cache as before due in part to their struggle to remain atop the G5. The Mount West Conference, after all, is riddled with late night games, limiting tv exposure to millions in the central and eastern time zones. A 9-3 record is solid, but not enough to overtake several AAC programs as likely picks for an NY6 bowl. The MWC as a whole has fallen behind, and Boise along with it. Couple that with the success that UCF has had the last few seasons and Boise State is conspicuously absent from the limelight. And the fans have noticed. Football revenue has declined as the athletic department was forced to use bundles and other cheaper ticketing packages to attract fans to the stadium (source: Idaho Statesman).
Is it a coaching thing, recruiting thing, or just regression back to the mean for a mid-major? Can Boise return to the top?
---
THE PROS
BOISE STATE STILL MEANS SOMETHING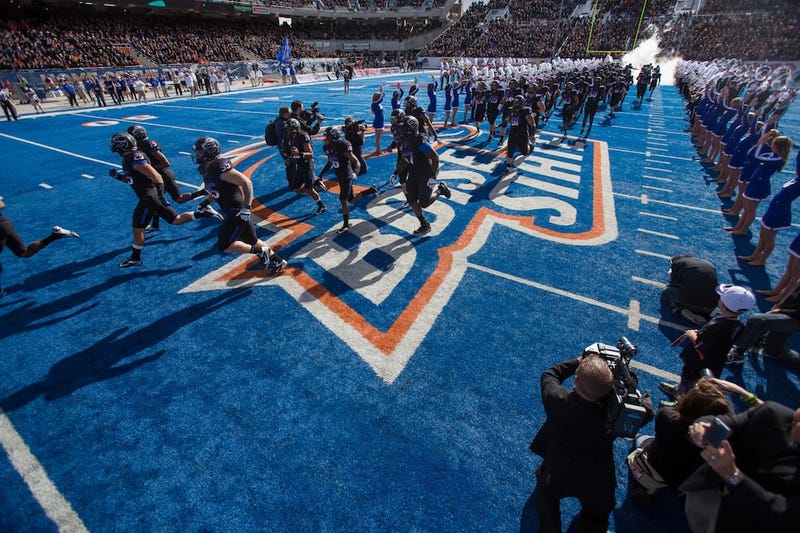 There is a reason ESPN still wants a contract with BSU, they are the media darlings of the late 2000s as far as G5 programs are concerned. They still carry plenty of weight in college football. Boise doesn't make their ratings known, but when Boise is on CBS or ESPN they regularly reach over 1 million viewers, at least with the numbers that were made public by ESPN a few years back (source: MWC Connection). A Boise State vs Houston match-up could garner a lot of attention. Something we will find out in 2021 because the two schools are scheduled to meet. Similarly, Boise vs UCF would probably be a big hit right now.
Regularly a pre-season top 25 team, Boise is considered by most a name-brand as far as G5 teams are concerned. The same can be said for this year as they start at No. 25 ( NCAA.com). They will have a tough test early on as they travel to Florida State.
THEY HAVE A SIMILAR BUDGET TO AAC PROGRAMS
Boise's athletic department reportedly operates at 45 million, ranking 68th in the country (source: USA Today ). This would place them in similar territory to other AAC programs that are generally ranked in the 50s to low 60s. As you may recall from my previous post on James Madison, the Dukes are actually 62nd overall with a budget of 48 million. My write-up for JMU being a possible addition to the AAC can be found by clicking the button below:JMU And the AAC
---
THE CONS
REVISITING 2010-2012
Back when the Big East was negotiating its new contract with ESPN, it added TCU and was looking for one more when the negotiations fell flat. This caused the cascade of schools to leave for the ACC, B1G 10 and Big 12. The AAC emerged out of the wreckage and was looking to add Boise and SDSU. Reportedly the talks broke down at the very end which resulted in a very ugly sue and counter-sue situation between Boise and the AAC. The end result, Boise had to pay 2.3 million in exit fees to the AAC, without actually having ever played a game. More on that here and here.
All that being said, there may be some remaining animosity between the two sides. It took until 2013 for them to negotiate a settlement, which isn't actually all that long when it comes to settlements, but still. The whole separation thing just didn't go so well.
BOISE TV CONTRACT WITH ESPN
Right now Boise State enjoys elevated status in the MWC. They have their special deal with ESPN to televise their games. That's where the additional 1.8 million in tv revenue comes in. They are unlikely to receive the same special treatment if they join the AAC. Is Boise willing to give their special status up?
This is probably one of the biggest areas of contention for Boise State. They get their games televised and on the big network for all to see. Would they be willing to move to ESPNU or ESPN+ for some of their games? Something tells me that is a no.
BLUE TURF
The blue turf is unmistakably Boise State. Every college football fan associates Boise with their blue turf, its their thing. Yet, there's a reason why colleges don't paint their fields their school colors. Sure, some have tried to (Eastern Washington, for one), but by and large its a no-go for many. This writer's opinion: its ghastly and distracting for the players. This is partially why Boise keeps it going, they know it can impact performances from opposing teams. The Boise State players and fans love it. I'm not sure the rest of the AAC agrees.
Sure, it's cool and hip, strikingly different from the average green we see on every football field. But please, don't make my Owls play on that injury riddled minefield that finally had some replacement done. Geese think it's a lake for goodness' sake.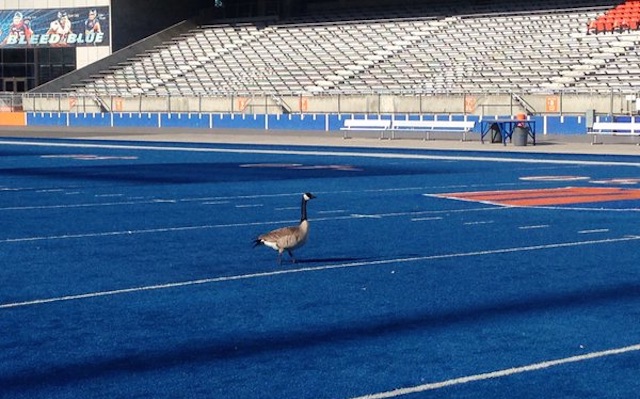 BOISE STATE BASKETBALL
Over the past 10 seasons Boise State basketball has made the NCAA tournament twice and the NIT twice. In all 4 instances they lost in the first round or play-in game. The MWC has become a 1 or 2 bid league the last several seasons and that hurts their brand perception. Boise State and the MWC has seen attendance slip over the past several seasons as well. The newly re-branded ExtraMile Arena seats 12,000, however, BSU has maintained a steady capacity at half that (Source: Wikipedia). Nevada is the only program in the MWC to see their attendance increase, which is no surprise given that they were a top 10 program at one point and finished 20th in the AP Poll before March Madness.
If the AAC wants to replace UConn in basketball, it should look elsewhere. Granted, UConn hasn't done much in basketball since their 2014 national championship, but adding a bubble team to the conference is less than ideal. Boise State did originally keep its olympic sports including basketball in the WAC when it was set to join the Big East, but I'm not sure the MWC would allow it now.
TRAVEL AND EXPENDITURE
It wasn't a road block in 2011, but it is still something to consider. Traveling 2000+ miles for a game is a lot to undertake and would increase the demands on the athletic budget. You could form a block out west with Boise and Houston and several of the other western members while limiting the requirements for playing far eastern teams. Still, basketball travel, and other sports, would be greatly impacted and there is a numbers crunch across athletic departments nationwide. The overall budget of AAC schools is a slight step up from the MWC, increasing the burden of the athletic programs. Again, its not a tremendous leap from one conference to the other, but the arms race is a little more expensive.
---
OVERALL
It is tough to find a program across the country that adds legitimate quality in both football and basketball. You can argue Boise does greatly increase football perception for the AAC, but does little else for other sports. The other olympic sports play a role in the decision as well, but not to the same extent as football and basketball. It all boils down to several factors that Boise, the MWC, and the AAC have to consider over the next several months. I think if the MWC deal is lower than anticipated, then Boise State may actually be interested in joining the AAC. For now, odds are low that the Broncos make a move. They are enjoying their elevated status in the MWC, even if it means late start times and slow decline into G5 blandness. After all, if the AAC continues to send teams to the NY6 bowl, Boise State will slip beyond the average college football fan's consciousness. In this day and age, staying relevant is key.
It won't be too long before Boise State's Fiesta Bowl victory is 15 years old, then 20 years old, so on and so forth. Will the Broncos rise again? If Boise wanted to come to the AAC, truly wanted to make it work, then I think the AAC would take them almost unanimously. Even after what transpired in the early 2010's. They would immediately bring more viewers to ESPN for the AAC and ticket sales would likely increase, at least for football. I have a hard time believing the MWC would allow Boise to keep their basketball, making things complicated along the non-football front. The WAC did however allow Boise to maintain their other sports while football left for the Big East. The AAC is unlikely to be interested in Boise basketball, but if that's what brings Boise football to the AAC, then so be it.
For those interested in taking a trip down memory lane, give this a read.
---
And there you have it, the pros and cons of adding Boise. Thank you for stopping by and reading!