Injury wOes
First and foremost, you never want to see any of these athletes get injured. The amount of hard work, dedication, long hours, blood, sweat, and tears they put into their craft cannot be quantified in numbers.
Reports surfaced that Central Florida's projected starting, QB Darriel Mack Jr, broke his ankle and would be out indefinitely (source: CBS Sports). Mack had roughly 500 passing yards and 3 passing touchdowns along with 100 rushing yards and 4 rushing touchdowns in Central Florida's final 3 games in McKenzie's absence (Source: sports reference). We all wish him a speedy recovery and hopefully he comes back stronger than ever.
Mack's injury followed a gruesome injury last November to Heisman hopeful McKenzie Milton, who will sit out this year recovering from this.
Brandon wImbush
Wimbush made some headlines last season at Notre Dame, none of them the good kind (Chicago Tribune, USA Today, ABC Chicago). As a former 4 star recruit and one of the top 50 HS players in the class of 2015, he just wasn't productive enough through their first 3 games to justify his starter status at a top ranked Notre Dame program. He was replaced by Ian Book early in the 2018 season after sub-optimal performance and stagnant offense. Thus, he decided to transfer this past off-season and try to regroup. He was considered to be the 8th best QB transfer this off-season by 247Sports (247Sports).
What plagued Wimbush was his accuracy, only completing 49 percent of his passes during his full season as QB in 2017. He also only had 6.8 yards per attempt and 1870 yards passing total. He got it done on the ground though, rushing for 800 yards and 14 rushing touchdowns.
Most considered it a luxury for UCF when he transferred and overall with him and Mack being rather interchangeable when it comes to UCF's offense.
The other guys in the film room
Behind Wimbush is likely redshirt freshman Quadry Jones who is another in a long list of dual-threat QBs that UCF apparently likes to deploy. From what I can gather reading through the various practice reports from both last year and this spring, the coaching staff has given him high praise and he certainly looks the part in his Hudl films as a recruit. Too soon though to comment on his ability, he simply needs time to actually play. The odds of him playing in a game this season have increased substantially, it is hard for your starter to play in all 12 games.
To be honest, I don't know much about Dillon Gabriel or Hayden Kingston to comment other than Gabriel was one of the top 30 or so pocket passing QBs in the class of 2019. If it comes down to anyone not named Wimbush having to play several games, the Knight's season is probably in trouble. That isn't to say the future isn't bright with the QB room, its just that it is young and unknown.
the Rest of the offense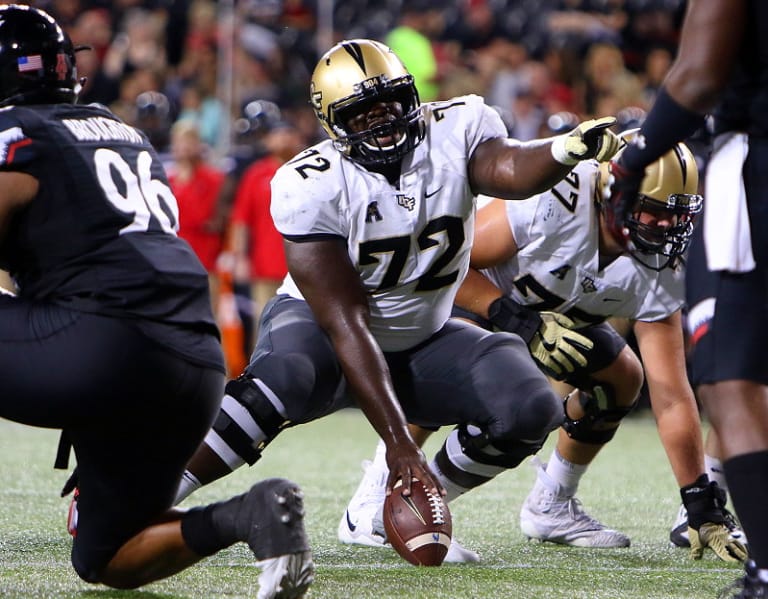 The offensive line returns 3 guys with significant playing time. Johnson, Brown, and Schneider also happen to be preseason All-Conference 1st team selections. UCF actually has 6 total preseason All-AAC players on their offense (Source:athlon sports). The offensive line in particular is looking to make a statement as the left side of the line will undergo some changes after their departures from last year. You can read more about UCF's offensive line from the Orlando Sentinel here and here. Basically, they shouldn't see any significant drop-off in production. For those who are wondering, this is the offensive line that ranked 7th in power success rate (3rd/4th down, 2 yards or less conversion), allowing only 14% of runs to get stuffed at or behind the line of scrimmage which ranked 14th in the country, and 8th in the country in "line yards", which gives credit to the offensive line when it comes to rush yards vs the running back getting credit (source: Football Outsiders). Overall, they are a good unit and have plenty of players in their depth chart to overcome the losses. If they can keep the run game going, it will help the QB become a game manager instead of having to be the game winner.
Not much needs to be said about McRae or Killins, they're going to get their numbers. This will take the load off the QB and should alleviate some responsibilities when it comes to game management. The offense will not have to rely on the arm of the QB. He will have to manage the game, make timely plays, and limit turnovers.
Their offense however was defined by Milton's savviness, accounting for a Passing Down S&P+ rank of 10th overall in the country. The UCF offense was also ranked 11th overall in S&P+ for their offense (source: Football Outsiders).
Gabriel Davis returns as one of the best receivers in the conference accounting for over 800 yards receiving and averaged 15.4 yards per reception. That's pretty impressive overall. He is the type of playmaker you need to keep defenses honest.
And then there is all-purpose everything Otis Anderson, who had 500 yards from scrimmage and 7 touchdowns on the season (stats: sports-reference.com) .
UCF SChedule
Games against Cinci, Houston, and USF pose immediate challenges, even if they had Milton at QB. Stanford is a bit of an unknown at this point, but usually a tough-nosed football team. They won't be an easy win. I don't want to get too deep with analyzing their schedule because at the end of the day, UCF is a more complete team than all of them. They should be able to win all of their games. Temple gave them all they could handle last year as well, so that game in Philly can't be overlooked.
Overall
UCF has an offense poised to continue no matter if the kicker lines up behind center. That being said, every game has its moments where the QB has to take over and make plays. There may even be a couple of games for UCF where the offense will have to carry the load. Wimbush comes in with big play potential and fits in with the offensive scheme. They are what you may consider a well oiled machine.
The AAC East looks pretty competitive this season. I'm more bullish than most on ECU's return out of college football purgatory, not that they should upset the Knights. The schedule plays out pretty fairly for another run at an undefeated season. I feel as though the Knights will be fine with Wimbush and are still the favorites to win the AAC East, probably the AAC Championship too. But now we are defining things as "probably", so the Knights being overwhelming favorites to win the AAC East have diminished.
Yes, they are still #1, but Cincinnati, Houston, Memphis (not on the schedule), USF, and Temple will have their shot, one way or another.