News broke out yesterday evening (per Owlscoop) that long time special teams and bowl game interim head coach Ed Foley has joined Matt Rhule at Baylor. It has been confirmed this morning by the usual suspects. I'm not going to lie, that sucks, a lot. He has been part of the Temple renaissance of the late 2000s and is the longest tenured sports coach at Temple (I think). I don't want to turn this article into speculation, but with all of those kickers/punters transferring this off-season, something was amiss. Perhaps they had nothing to do with it and it's all a coincidence. Again, I don't want to speculate on what happened and what lead him to decided Baylor is a better option than his home.
But I wanted to do more than lament him leaving. I wanted to take a look back at his time here. He has been through a lot of ups and downs. Most of all, I want thank him. I want to thank him for being the most passionate football fan we have, most passionate basketball fan TU hoops has. Thank him for all the work he did as a coach. He embodies what Temple stands for "Perceverantia Vincit" – perseverance conquers.
Temple is home
Foley joined the staff under Al Golden in 2008 when Temple went 5-7. You may look at that record and scoff, but that was the most win Temple had in a season since 1990, signaling Temple's resurgence out of the abyss, continuing to this day. Prior to coming to Temple, he coached at Hofstra and Fordham. He has coached in this area for 20 years now. He knows the people here, he grew up in Cherry Hill. On the recruiting trail he would listen to Meek Mill, Kodak, Lil Dicky. You name something cool and hip about Philly and Foley was on it. He attended those concerts too. I honestly couldn't tell you who half these artists are, but you do you Foley.
He is an Eagles fan and Sixers guy. He is Temple Tuff and Philly made through and through. Temple also loses one of its biggest supporters for all its sports. He was a tremendous TUBB fan, for both men and women. He supported all of the sports and would frequent the games.
head coach carousel
And the head coaches came and went. First it was Golden, then it was Addazio, followed by Rhule, continued with the departure of Collins, and lastly Manny Diaz for like 10 days or whatever. He heard the same speech by all of them "Temple is a unique place, built on toughness, I am happy to be an Owl", but he was the only coach that lived it. Perhaps Rhule understood it too.
For 12 season Foley was on Temple's sideline, including first Bowl win in 2011. That was the first bowl game they won since 1979. He also witnessed the 2-10 season under first year head coach, Matt Rhule. Foley was here through the recovery period after that, where Rhule took the program to new heights including its first ever conference championship. He even watched an All-American in Tyler Matakevich walk through 10th and Diamond.
He saw several of those first year head coaches come through those doors. Temple, once punted out of the Big East for such poor performance, had become a launching pad for coordinators to P5 coaching gigs. A marvel, really. Much to his credit, he tried to keep things together during those transition periods. He was named interim head coach for 2 of Temple's bowl games and took the loss on both. After all, a few weeks of being the head man when most of the staff has one foot out the door or isn't here altogether is no easy feet. But he did become an internet sensation for it.
This off-season saw Temple move through 3 head coaches (Collins, Diaz, and now Carey). A sure sign of the times at Temple where coaches come to get their ears wet and go on to the P5 where they get a fatter pay check. But Ed Foley never left with the other head coaches. He stayed at Temple.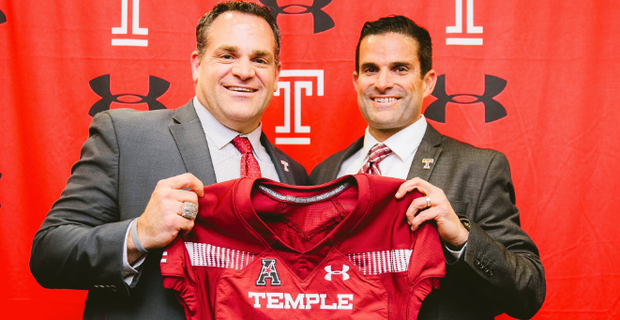 Through all of the coaching upheaval, Foley remained constant. Foley's special teams were responsible for 24 blocked kicks since 2014, the most in the FBS over that span. They have provided significant momentum changes in games that the Owls just weren't cutting it on offense. When they needed a spark, the special teams were there to provide it. And that was in thanks to their coach.
high hopes
To be honest, I'm not quite sure when Foley began to sing High Hopes by Frank Sinatra in the locker room. I think it started in 2013 when the Owls struggled mightily to win games. A sort of pick me up after some difficult losses. Eventually, Foley began to have the team sing it after they win. So over the last 5 seasons, it was sung a lot. Home or away, the Owls would be singing high hopes in that locker room. They have high hopes heading into every game and every season now, something achieved with Foley on those sidelines.
I wish him all the best at Baylor and I hope he continues to listen to Meek Mill while in Wacko. Something tells me he may come back to Temple one day.