The dog days of summer are upon us and there aren't too many sports options in July. Probably for good reason as much of the country bakes in 100 degree weather or flooding rains. Even Stella looks appalled at the heat.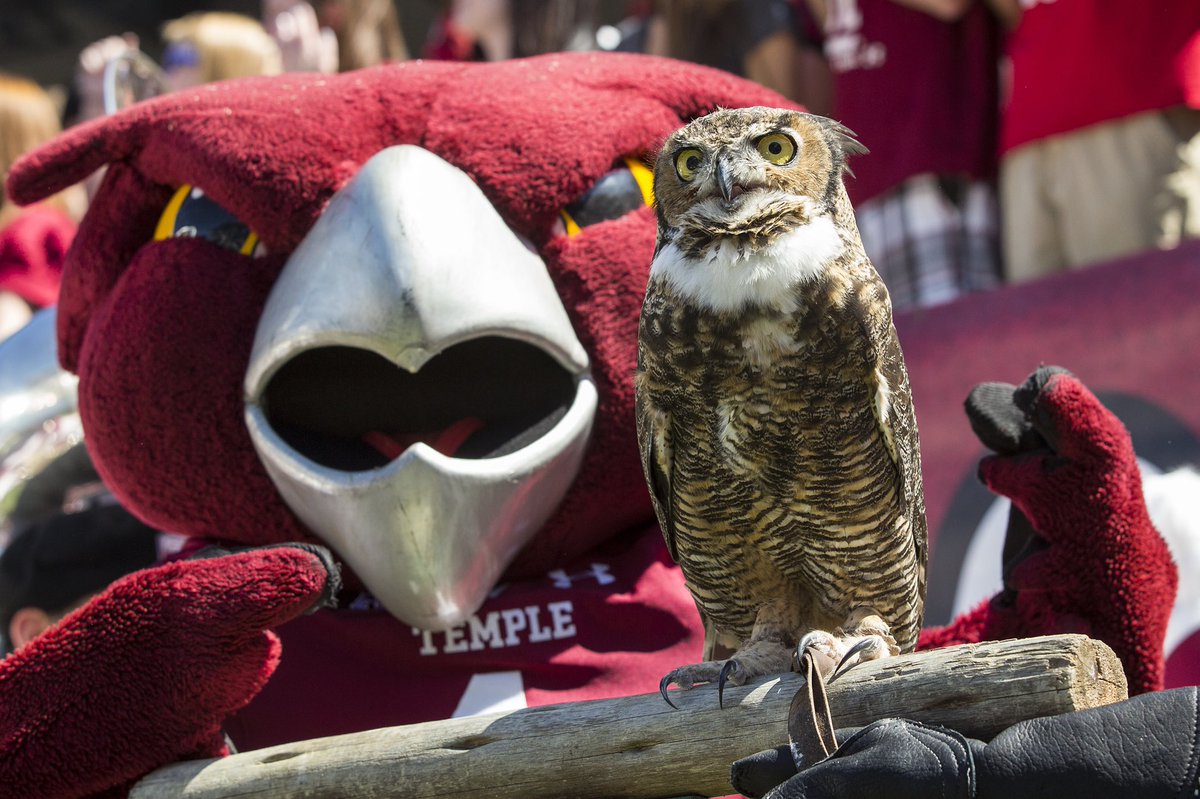 So what is a fall-loving sports fan to do in this black hole of summer nothingness? I decided to look at the AAC and examine which team could have a breakout performance this season and actually compete for an AAC crown. It would be easy to talk about Temple here, considering that's where my rooting interest is. That would be too simple. I want an underdoggy underdog, a team so bad that no one expects anything from them. In order to qualify as a sleeper, a team must possess these qualities:
A) Below 0.500 last year
B) Expect to be 0.500 or below this year
C) Have little hope for a bowl game this year
D) Be no where near receiving media votes during preseason ballot
Sorry Memphis fans, you're way out of the running. Ditto for you SMU, where 1 lunatic gave you a first place vote in the AAC West. Here is the media poll, in case you are wondering.
Just in case you forgot each team's record from last year, here it is:
So we are really only down to 4 candidates: Tulsa, Navy, ECU, and UConn. Again, SMU is disqualified because they receieved a first place vote this year, meaning someone, somewhere, can see SMU winning a lot games.
I want my surprise team to be more of a surprise than SMU winning the west. They have to be bottom of the barrel bad with no hope this year.
Memphis, Houston, Cinci, and USF all have legitimate chances to win the AAC. It's no fun predicting them as one of the sleepers. They aren't remotely sleeper material and don't satisfy the requirements above. And before you go off thinking the team below is my prediction to win the AAC Championship, it isn't. My team preseason rankings will come out shortly.
Without further adieu, here is my sleeper to win the AAC this year…
East Carolina University Pirates
Yeah, I know, every year there is some poor ECU fan that thinks they will put it together and go 9-3 and challenge for the AAC East crown. This year is no different as I'm sure there are plenty of lost souls in Greensboro that think their renaissance is coming. It probably isn't, not this year at least. Gone are the glory days of winning CUSA championships, but that doesn't stop them from predicting a miraculous turnaround.
Still, let's take a look at why ECU may or may not surprise this season, and why I picked them as the sleeper.
---
Why They Will Win The AAC
Coaches
Enter Mike Houston, first year HC of the ECU pirates, was hired and signed to a 5 year contract this off-season. Houston will be tasked rebuilding a once-proud program into a contender. In his time at James Madison University, the Dukes saw him compile a record of 37-6, including the 2016 FCS National Championship and a 2017 FCS National Title game appearance. Houston is heading for a difficult rebuild, but North Carolina is his home, a home that has plenty of talent nearby. ECU has gone 3-9 the last several season and Houston believes several more years of consistency are required to turn things around. But there is something to be said about hiring a winning head coach.
Holton Ahlers
Ahlers took over the starting roll game 7 of last year against UCF. He had seen game action as a dual-threat QB on run options plays throughout the season. His first true action at QB came against Houston and he played much of the 2nd half, but the UCF game was his first start. In the next 4 games (excluding the blowout at Cinci at the end), he posted 1457 pass yards, 10 touchdowns, and 2 interceptions. He also ran 323 yards and a touchdown in that same period. His completion percentage was only 53 percent during that time period as he averaged a ton of throws during those games. He will need to improve, but as far as true freshman are concerned, he balled out towards the end of the season. The clunker against a hot Cinci team at the end not withstanding, as Ahlers was battling an injury and Cincinnati was probably the 2nd best team in the conference at that point.
Offense to Remain Productive
Last year ECU was 57th in yards per game. You may be asking, what's so good about that? Well, they return 4 out of their top 6 pass catching options from last year. Excluding the QB, they also return 2 out of their top 3 rushers. Their biggest loss is on the offensive line with the right side in flux, but every team has changes on the offensive line. Donnie Kirkpatrick is a familiar face on the ECU sidelines and has orchestrated some strong offensive seasons. He has plenty of talent to do so this year.
Playmaker on Every Level on Defense
This year the Pirates return some talent on defense as well. They have All-Conference talent on every level including DL Alex Turner who accumulated 46 tackles, 4 sacks, 10 TFLs and blocked kick/punt. In the second level they have a pair of dynamic LBs in Bruce Bevans and Aaron Ramseur, who look to improve from their first time starting last year. Both have missed some spring time but are expected to start this fall. They have a ton of talent at the underclassmen level, its just finding the right pieces for the new defensive scheme. At DB, Davondre Robinson returns as Athlon's preseason All-AAC 3rd team.
ECU Fans
They have some of the best fans in the AAC. It is my firm belief that a stronger ECU is a stronger AAC. They travel well, they pack the stadium even though the team goes 3-9 consistently. They want good football in Greensboro. They have the fan base that rivals any other in the AAC. They can turn any home game into a distinct home field advantage, they just need some hope that Houston can turn things around. And I think he will.
---
Why They Won't Win The AAC
Defense Was Pretty Bad
They lose 3 of their top 6 tacklers from last year's 101st ranked total defense. And yes, someone will step up to fill their shoes because someone has to make tackles. But still, they will be transitioning into a less experience group overall with plenty of youth mixed in. They rank 83rd overall for defensive returning production and they simply need to recruit better on the defensive side of the ball.
If the Purple-Gold spring game is any indication, the defense has a long way to go.
Offensive Line
ECU essentially returns their left side and needs to find pieces for their right side. D'Ante Smith anchors the left side of the line and he will continue to be talked about as one of the better OL in the conference. Still, the right side of the line is a concern from a team that ranked 112th in rushing offense last season. Hoist the Colours outlined the concerns well in this piece.
Houston Inherited Talent at JMU
Mike Houston at JMU inherited a talented team that made the playoffs but couldn't quite burst the bubble. They had made back-to-back playoff appearances in 2014 and 2015 for the first time since 2008 and even had some national title aspirations with coach Everett Withers, who has now go onto the NFL. Unfortunately for their 2015 squad, their QB got injured and that was that.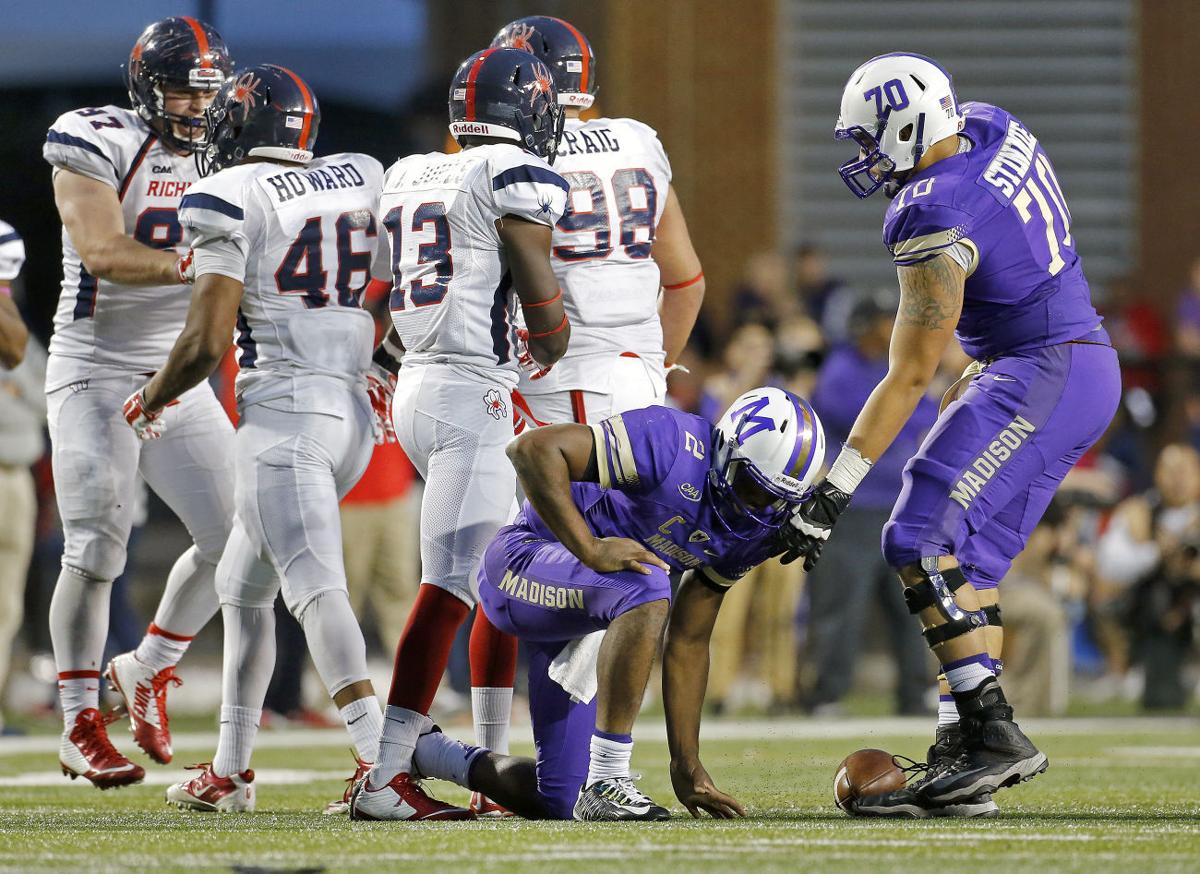 Still, Mike Houston took that talented squad and did win the FCS Championship. He then went to the title game the following year, and then the semi-finals. You see the trend, right? Each year, just a little worse. It does show that he can manage a football team, pull the talent together, create winning game plans, and execute. That being said, his teams got worse over the 3 year period.
---
Overall
If the offense can maintain some consistency and Ahlers progresses from his freshman season into his sophomore season accordingly, then the offense may be one of the better units in the AAC. Last year's 57th ranked offense in yards/game may coalesce into a top 25 offense. And before you shrug off that last remark, Cincinnati jumped from the 101st overall offense to 23rd last year. They made an even more impressive jump in terms of scoring, from 111th scoring offense to 23rd. Do not be surprised if ECU can make a jump up, and considering they weren't as bad as Cinci was, they could surprise a lot of folks.
The main concerns for this ECU team will be on defense. They have talent at every level, which beats not having talent at all, I suppose. They lose a lot of production, but if you can have a leader at the DL, LB, and DB meeting rooms, that helps a lot. There is plenty of youth that will gain experience as the season goes along.
---
When you think of a sleeper team, it isn't just a team that has talent somewhere and is a year away from being a year away, kinda like Tulsa. And its not the same as being a darkhorse team, one that is sleeping just below-the-radar and can wake up at any moment to deliver a conference title. That team would be USF, who garnered no first place votes but has the talent and returning offensive production (11th nationally) to become a serious contender in November. A sleeper team is one that has potential that no one is talking about.
No one sees ECU as a contender. But that's the point. That's why they are the sleeper team of the AAC this season.