Today we will continue the Temple football position previews with the offensive line. The offensive line is a position that rarely gets the same treatment as the star QB or star RB, you never see them as Heisman candidates. And yet, a good O-line is the difference between a mediocre offense and a strong one. There are many examples of when a key figure on the offensive line goes down injured, the offensive line looks completely different as they shuffle players around, and so the offensive production suffers. In the college game, consistency is key and the offensive line is part of that consistency. The NIU coaching staff appears to want to run a similar offense to what Temple has been doing, so that will hopefully help move things along smoothly. Dave Patenaude did introduce more spread options and pistol formations, so we shall see what Uremovich deploys.
---
Other positional outlooks can be found by clicking the buttons below
---
Today we will look at not just the offensive line, but one of the staples of the offensive line over the last 3 seasons. The big guys need some love too. Matt Hennessy is the engine that makes things run and is our top returning offensive player. In my opinion, he is even more important than Anthony Russo. Plus, I think Toddy Centeio will be seeing more playing time this year as well. He is too dynamic to just waste away on the sidelines.
---
Roster Moves
Key Departures: Jaelin Robinson, Aaron Ruff, James McHale, Darian Bryant
Key Additions: Jermaine Donaldson, Chris Fowx, Victor Stoffel, Joseph Hooper (JUCO), Jake Horoshko (JUCO)
Matt Hennessy
Anchoring the offensive line this year is Matt Hennessy, who would otherwise be entering his R-JR season but has advanced academically to the point where he is now listed as a Graduate student.
Let's go back a few years to 2017. Temple was opening at Notre Dame. As you can see from the images below, he is the highest graded pass blocking interior OL in the AAC and he only allowed 0.5% pressure rate, which was good for 2 pressures in over 300 snaps. That's extremely impressive! Pro Football Focus has released several different grades on him and you can see them in the images below.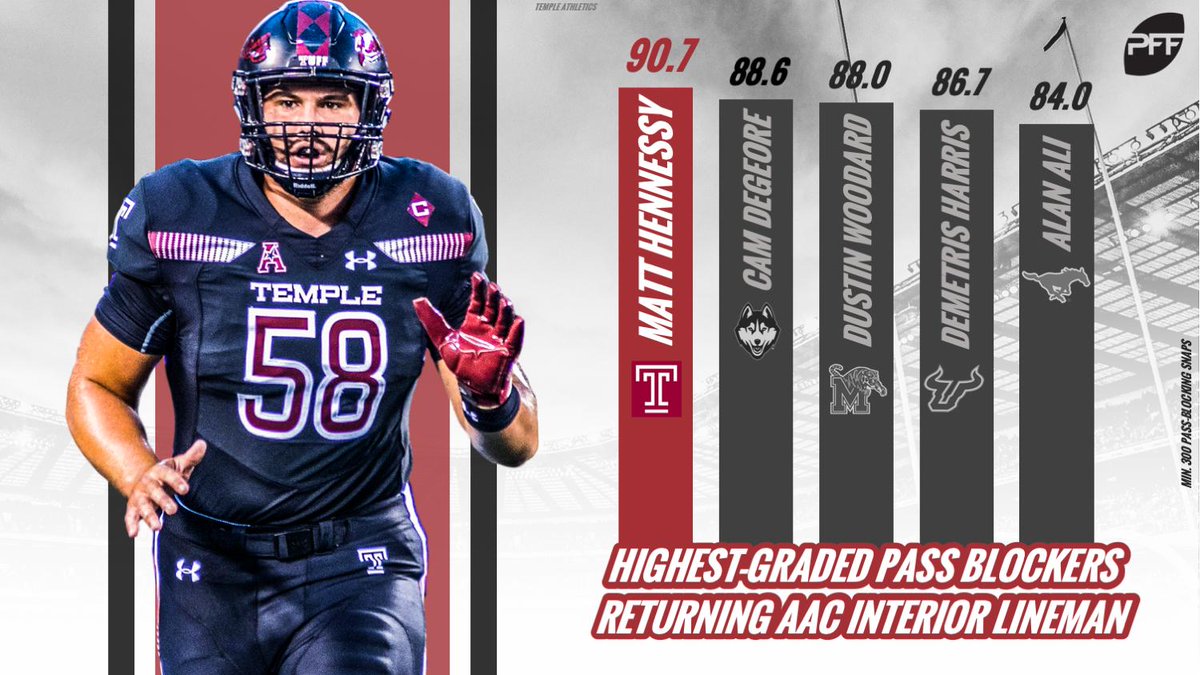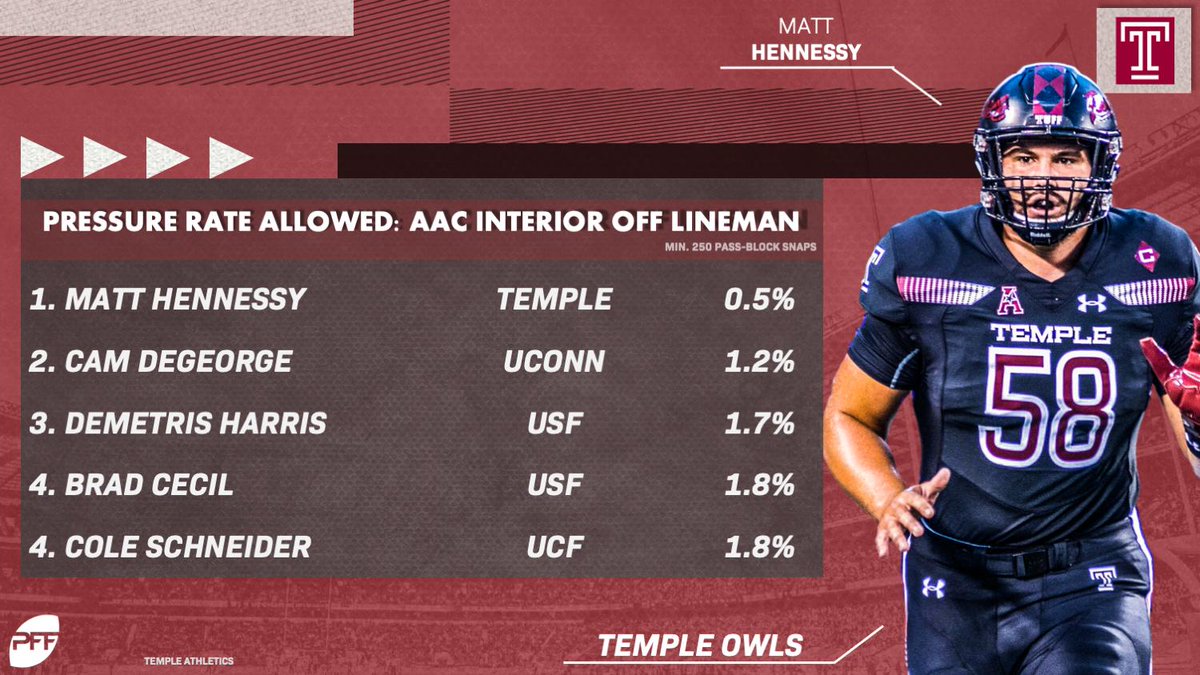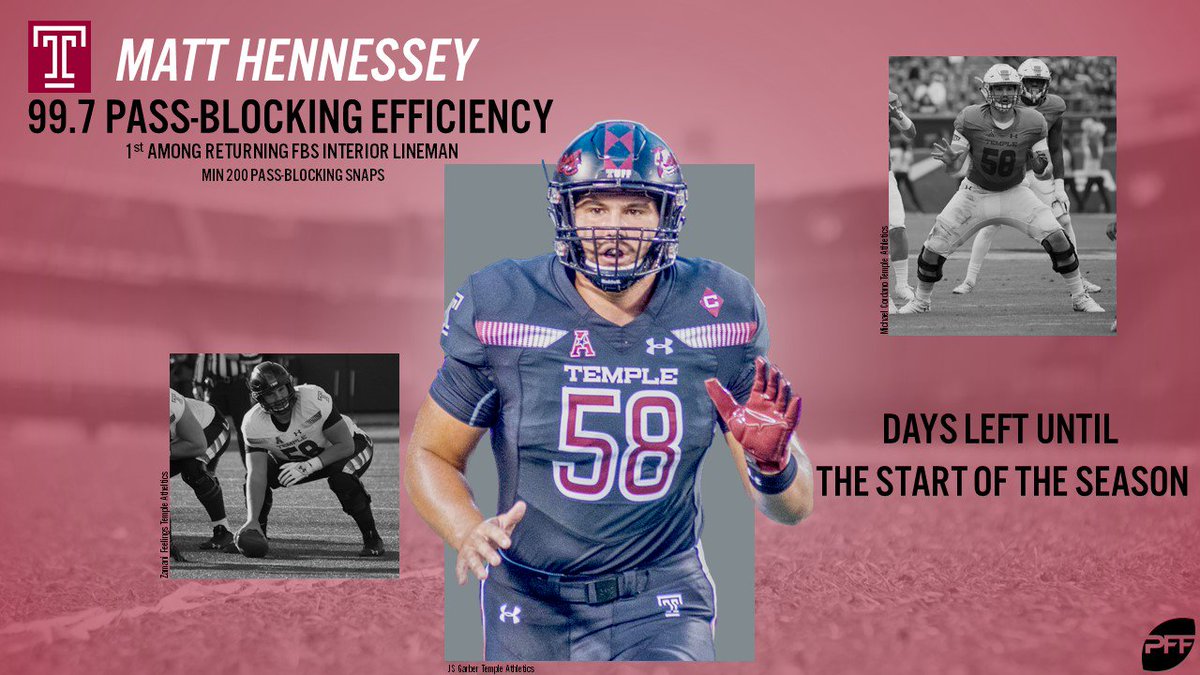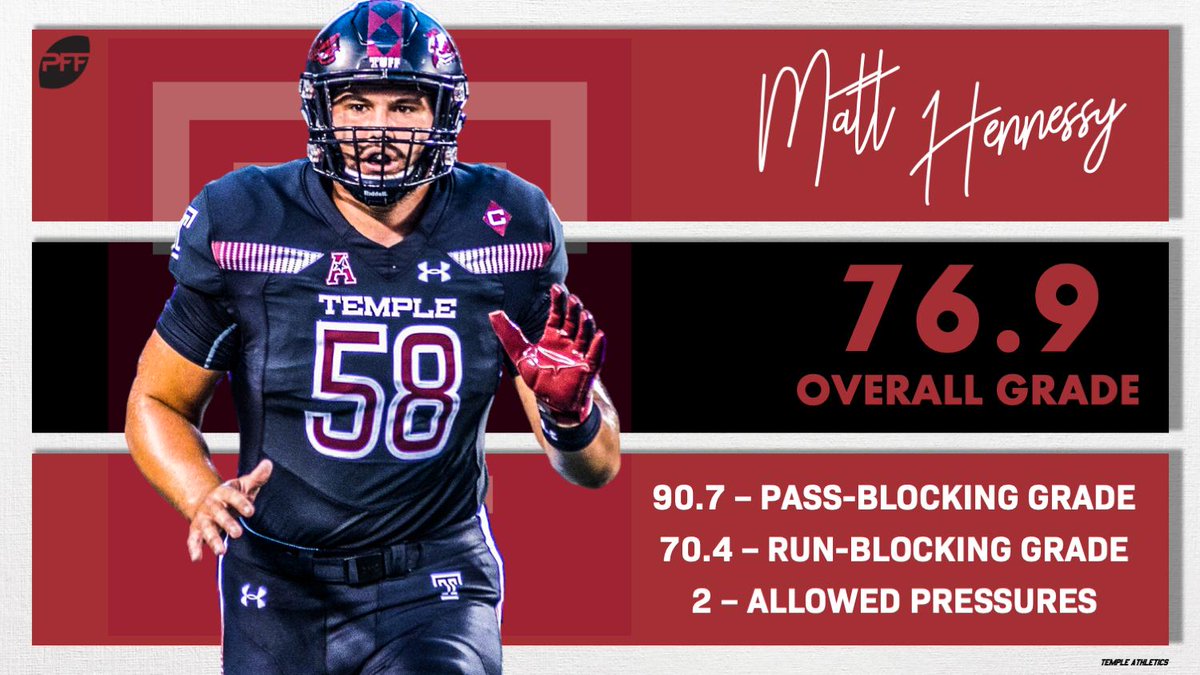 You can learn more about PFF and offensive lineman grades and how they correlate to NFL potential here. You are essentially looking at 2 main variables: pass protection and run blocking. Matt is above 90 in both categories. I firmly believe he is a top 10 center in the country. Here is more on how PFF does the actual grading.
Matt also won the scholar athlete of the year in the AAC. He has accomplished many great things both on and off the field.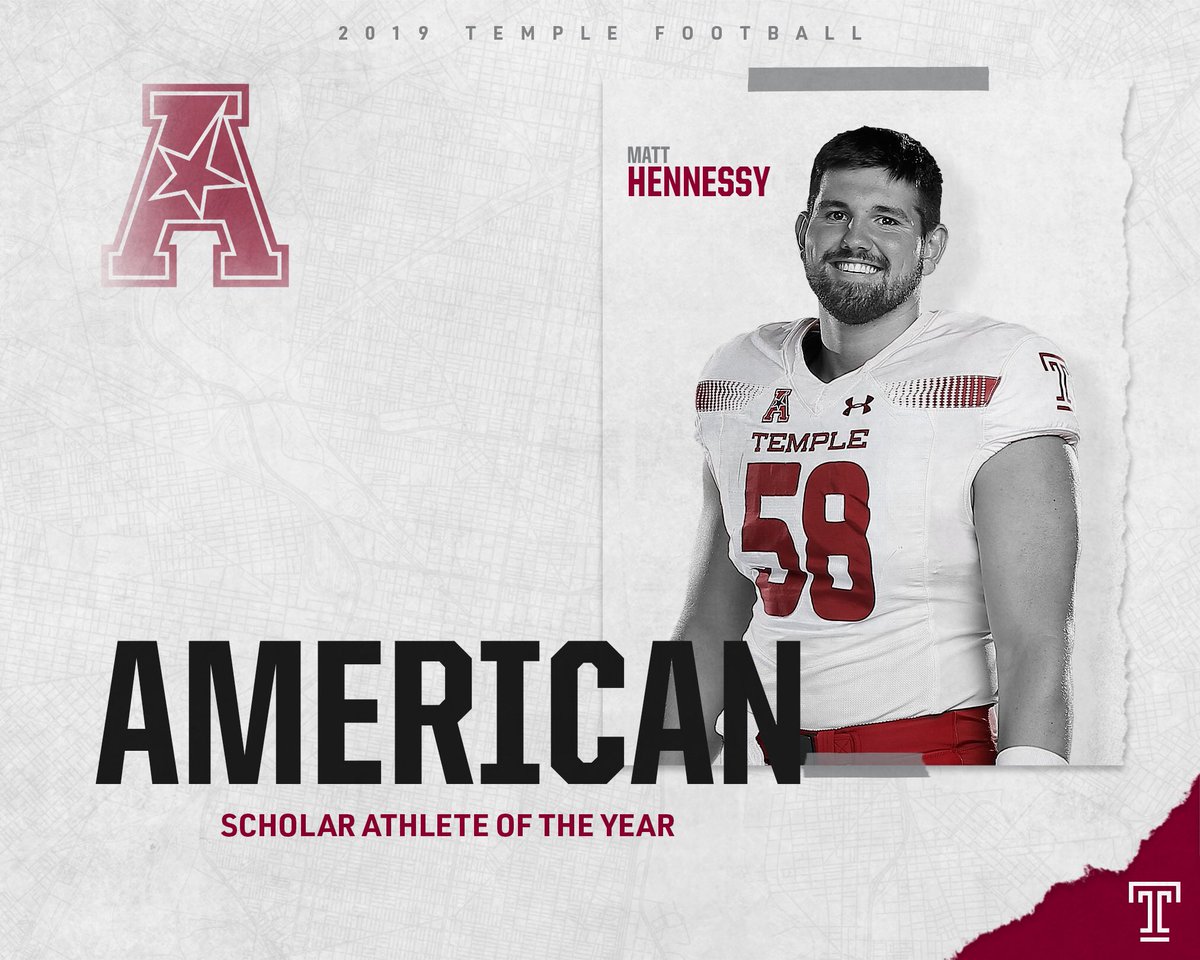 He does have 1 year of eligibility remaining, so we will see if he decides to stay or go on to the NFL.
The Rest of the offensive line is pretty good too
| | |
| --- | --- |
| NAME | GAMES PLAYED |
| Vincent Picozzi | 23 |
| Jovahn Fair | 33 |
| Adam Klein | 13 |
| Isaac Moore | 13 |
| Griffin Sestili | 8 |
| Joseph Hooper (JUCO) | 4 |
Right off the bat you can see who the next 4 offensive lineman will likely be. All have at least a year of experience under their belt. Fair, Hennessy, and Picozzi will occupy the interior. Each bring a wealth of experience and make-up one of the better interiors of the conference. All three were placed on Athlon's All-Conference team. At the tackle positions will be Adam Klein and Isaac Moore, both of whom saw extensive action last season, with Klein starting about 9 games and Moore starting 10 last season. This is a more experienced unit than people are giving it credit for.
Underdog Dynasty previewed the OL position for each team in the conference and gave the Owls the #5 OL group in the AAC. I think its a fair assessment, but they are underplaying Klein and Moore, who were the starters to end the season.
Coaching and Depth Chart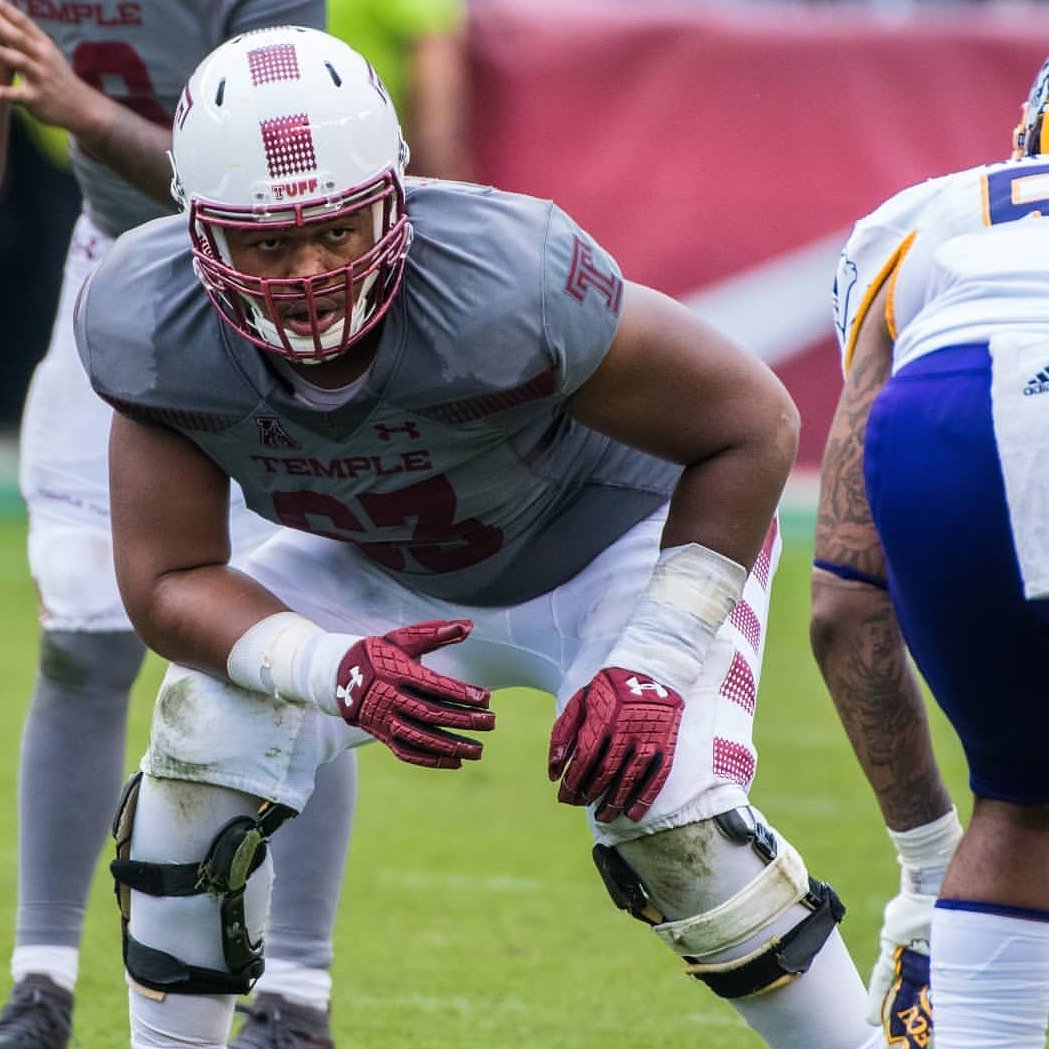 This off-season will be about building depth. As summer camp approaches the Owls will try to introduce other players into the fold. Temple's new offensive line coach is Coach Tripodi, who has actually done a fairly decent job while at NIU. However, since 2016, NIU's offensive line has declined in performance. In 2016 they were ranked 1st in sacks allowed in the MAC, which dropped to 8th in 2017 and then last in 2018. Similarly, their rush offense has fallen flat over the years. The advanced stats were also unimpressive last season, particularly their passing offense struggled when it came to protecting the QB on passing downs.
Coming over to Temple, he has a pretty experienced unit on the 1st team but the real question will be how depth. No offensive lineman plays every snap. Their will have to be rotation and most OL groups will rotate 7 or 8 players throughout the game. Some other guys like David Nwaogwugwu, Leon Pinto, J.D Gomez, Euro-project Victor Stoffel, and Andrew Eisenson will be tasked with developing into capable rotational players. I would expect Joseph Hooper to rotate in as well. The freshman Chris Fowx and Jermaine Donaldson are advanced enough in their skill set to potentially see some playing time as well. Hopefully they won't be used in emergency duties. I do believe there is enough depth with the names above that our three freshman OL will have a chance to redshirt and get up to speed in the college game.
overall
Our 1st team OL is probably one of the top units overall in the AAC, especially in the interior. The line struggled at times running the ball on standard downs, failing to pickup the expected yardage and staying ahead of the chain. Another year is under their belt and I think the team will be solid overall upfront. Situational rushing will likely remain one of the key areas to improve upon this year.
It remains to be seen how strong their depth is upfront as they have little experience behind their starters. Still, the unit should be pretty solid overall.
Position Outlook: B
Level of Concern: Moderate, the starters will be good, but will the rotational guys be ready to roll? We will find out September.