I enjoy making lists, so let's keep going with another one. Note, this list is not the same as my top 5 players to watch, which outlined guys that will be asked to step up and make big plays. This list comprises of players that absolutely need to play well, and by all accounts should, if the Owls are to have a successful 2019 campaign.
Every team has a group of players that help to elevate the team. One of the cooler traditions at Temple that was started by Al Golden in the mid-2000s was the single digit tough guy. I'm a huge fan of acknowledging player's hard work. Unfortunately due to NCAA rules, offensive and lineman aren't allowed to wear single digits, although that hasn't stopped certain players from being acknowledged by the staff in other ways. Still, the single digit tuff player embodies the spirit of Temple Tuff and Philly. They are for all intents and purposes, the team leaders.
And when the season starts, Temple will turn to the leaders on the team to make things happen. These are the guys who must perform well if Temple wants to win a conference championship.
---
5. Shaun Bradley
The middle linebacker on any defense is a guy that's expected to step up and make plays. Bradley is now entering his redshirt senior year and is "the guy" on this defense. He will be tasked with not only making his own plays, but also making pre-snap reads and adjusting the defense. Bradley has been named to numerous preseason award watch lists and is one of the better MLBs in the conference. He has NFL potential and the Owls will need him to have a big year in order to do well.
4. sam franklin
Used as a nickel linebacker, Franklin recorded a sack, TFL, INT, forced fumble, and a fumble recovery on defense. As offenses continue to try and spread out defenses, the nickel linebacker role has emerged as one of the key pass defending positions. We know Linwood Crump and Harrison Hand will be critical components of the pass defense on the perimeter, but defending guys like APB Adrian Killins will be up to the LBs. Slot WRs need to be covered by a hybrid DB/LB like Franklin, who has thrived in that role the last 2 seasons. He had a pretty big year in 2017 and had a slight dip in production in 2018. I'm fully expecting another big year for Franklin, and the Owls will need him going up against some of these high powered offenses. The NFL may also be calling his name, but for now, he is just off the NFL draft radar.
3. isaiah wright
The preseason All-American punt returner is going to be featured a lot in this Rod Carey offense. It's highly likely the Owls will get him the ball in both the wildcat and as a WR. He may just line up straight up as a RB behind Russo at times as well. No matter where he lines up, the always dynamic playmaker is going to be called upon to help the offense put up points. We've all seen what he can do with his hands. He has an NFL body with NFL abilities. He needs to produce if he wants to get his name called on Draft day. That will depend on how Uremovich utilizes Wright in his offense. There aren't too many Devin Hester's running around anymore. Wright needs to have a big season for himself, and for the Owls. If he eclipses 700 yards receiving and gains a few hundred on the ground to go along with some more special teams magic, the Owls will likely be winning some games, and Wright will be earning himself a nice paycheck.
2. Whomever the #2 and #3 Running backs are
None of us know precisely who will be rotating with Gardner at the RB position. Coach Carey has stated on several occasions that they will deploy a running back by committee approach. That means we will likely see several players rotate and get some carries. However the pecking order plays out, the next couple of guys will have to produce. The very successful 2016 season featured two 900 yard rushers and Isaiah Wright finished 3rd on the team at 200+ yards. That may happen again this season as the top two or so RBs split carries and Wright gets his own touches. We're not sure how the running game will shake out, and its one of the bigger story lines this offseason for Temple. With Gardner being a little big banged up this spring, the coaches have had a look at the 7 or so other RBs on the roster. As stated in the positional outlook, there are several guys that could step up and stake their claim as the #2 RB behind Gardner. But it's a long season and Temple may have a new #1 by the time the season ends. The Owls will need their next set of RBs to produce if they want to have a successful season. The top teams in the AAC all have multiple rushers over 200 yards: Houston (4- including their QB), UCF (5 – including their QB), Memphis (3), Cinci (4- including their QB), USF (3 – including their QB). I think the cut-off is at least 3 rushers for over 200 yards.
1. Anthony Russo
Sort of a no-brainer here, but if the Owls want to have a successful season, they will need Russo to play at an All-Conference level. He has the weapons and tools to make it happen. They will need him to improve on his interception rate but the advanced stats showed he performed well on passing downs and standard downs (Football Outsiders). Signs are pointing up for a successful season and he has been featured recently on a Channel 6 ABC newscast. If he can make it to 3000 yards passing and 20+ TDs, the Owls are in store for a good season. Russo will have 1 more year of eligibility after this and will likely need 1 more good season to show he is NFL ready. Still, the Owls will need him to show improvements if they want to make it back to the AAC Championship game.
---
honorable mentions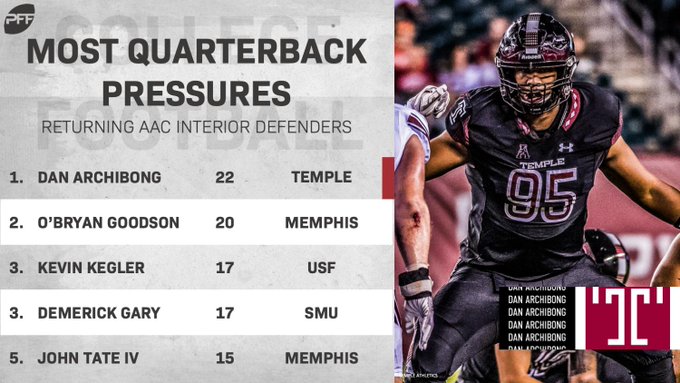 Benny Walls – He is the leading interceptions leader on the Temple defense. The Owls will look to Walls to lead the defensive secondary after Randall went on to the NFL. He should have a big season and the Owls will need him to be a brick wall (pun intended) in the defensive backfield. Last year Temple's defense finished 14th in pass efficiency and 20th in pass defense, making them one of the best pass defenses in the country. Harrison Hand and Linwood Crump will be called upon as well to have big seasons.
Branden Mack – The second leading receiver from last year will have to have a big year for the Owls if they want to be successful on offense. Mack possess as a redzone mismatch but also has deceptive speed for a guy his size.
Quincy Roche – He finished 2nd last year in sacks and has 13 altogether. A disruptive force on special teams, Roche will have to be productive along with the experienced front 4 on the defensive line, as outlined in the position preview.
Dan Archibong – Another defensive lineman that will have to produce in order for Temple to have a successful season. Archibong will play a critical role in continuing to pressure the QB which will help the pass defense instrumentally. He is a legitimate NFL talent as well.
---
All images are from Owlsports.com except Russo and Archibong which are courtesy of Pro Football Focus College.