Continuing on with our position previews we now are turning our attention to the corners and safeties. There has been a fair amount of turnover in recent seasons, both players and coaches. Travon Young, Sean Chandler, Rock Ya-Sin, Delvon Randall, and Nate Hairston all occupy NFL rosters. Not too shabby.
Strong defensive backfield effort has been a mainstay at Temple for the better part of the 2010s. The secondary has consistently been one of the top performers in the AAC despite the coaching turnover. In the AAC, your ability to defend the pass game with all of these explosive offenses is a critical component to a team's success. Temple fields a strong secondary, but with a new staff and the turnover, nothing is given this year.
---
Key Departures: Delvon Randall, Rock Ya-Sin, Rodney Williams, Jyquis Thomas, Amir Gillis
Key Additions: Harrison Hand (Baylor), Ayron Monroe (Penn State), Nate Wyatt, MJ Griffin, Thomas Joe-Kamara
---
starters are ready to go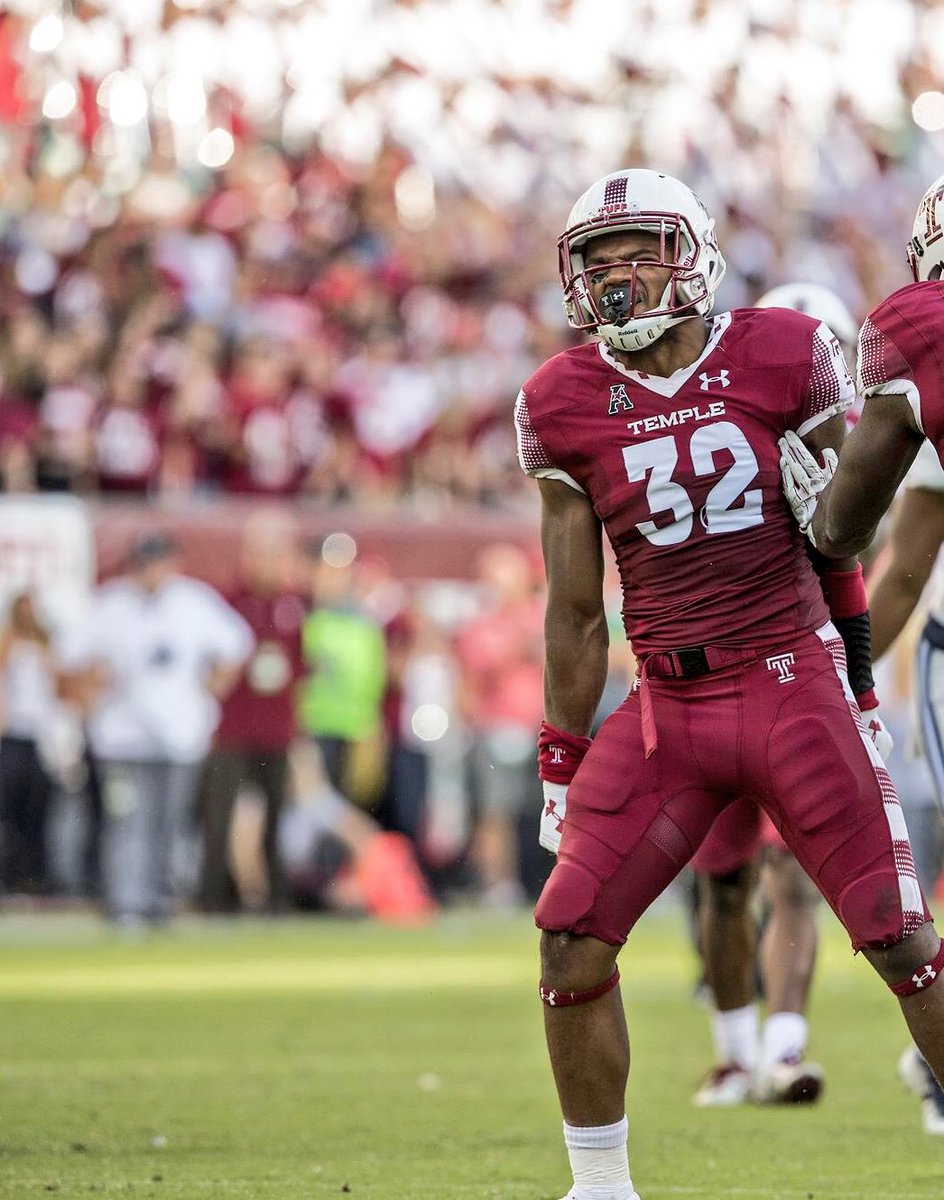 Despite some of the turnover from last year to this year, the guys taking over do bring back experience. Overall, Temple loses about 63% of its tackling production from last season. That's some heavy losses overall, but not unexpected given the seniority. We have some familiar names returning at safety including Benny Walls and Keyvone Bruton. Benny Walls has received playing time since 2016 and has 36 games under his belt. He had been rotating in fairly significantly in 2018 and last year was the starting safety. The advanced stats show that his marginal efficiency exceeds that of an "average" safety, so he is pretty good at preventing opposing offenses from making plays. He has struggled at times preventing the big plays, especially in his first two season. He improved last year substantially. Next to him will either be Keyvone Bruton or Ayron Monroe. Bruton has about 15 games of experience and struggled at times preventing bigger plays, but he is also fairly efficient overall compared to average. He does allow a larger per play average though than a typical safety, so he is liable for explosive plays. Monroe has rotated in at safety at Penn State, but has not had significant playing time as of yet. He also played a role on special teams over the years and doing so quite well. That being said, he has bout 33 games of experience despite not starting. So you figure he could definitely get some playing time this year.
DaeSean Winston, who rotated in at nickel corner last year, has been pushed back into the safety position. At 6'2″ and 200lb, he has nice size for the position and if he played nickel corner, some quickness along with it. He was just one of handful of freshman last year to get playing time and he burned his redshirt. The future is bright for Winston.
George Reid is a redshirt sophomore who played in only 6 games last year. He has some game experience but not enough to inspire confidence just yet. Keep an eye on him though, he got his feet wet last year and seems to be a good safety in the making. He is young though and will have to fight for playing time.
Amir Tyler returns for his redshirt junior season. He has mostly played special teams the last 2 years but did see some game action last season and could see some playing time.
Jason Prince is another name to keep an eye on, he played 1 year at Delaware Valley University at both RB and LB. At 6'2″ and 210lb, presents as another interesting option off the bench.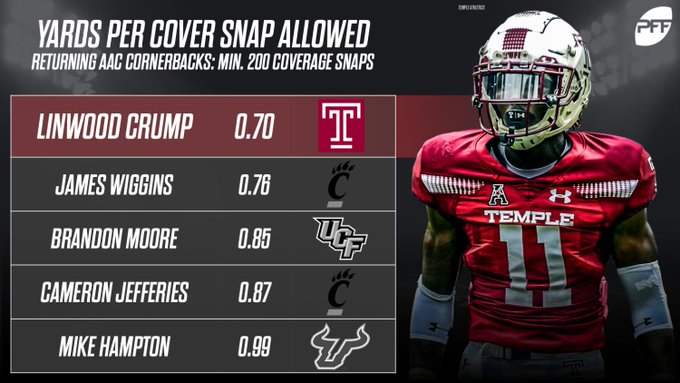 Moving over to corner the corner position, Linwood Crump returns as an All-AAC candidate. The senior has a very high success rate and marginal efficiency, suggesting getting plays off him are hard to come by. He's got an NFL future if posts another big season, which I believe he can do. As you can see from the image above, he is one of the top overall DBs in limiting production for opposing wide receivers.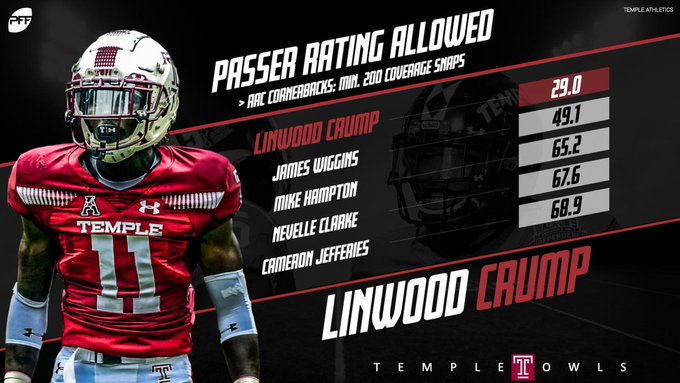 He is the real deal and the Owls should feel pretty safe with him locking down players. If his passer rating and efficiency numbers stay consistent from last year to this year, there is no reason he can't go in the 2nd round.
On the opposite side of him will likely be Harrison Hand, but Ty Mason and Christian Braswell could also push for significant minutes. Harrison Hand rejoins coach Fran Brown at Temple while both went to Baylor in 2016 as Matt Rhule took the head coaching job. Hand looks to reclaim his 2017 glory, where he started every game for Baylor as a true freshman. Some bumps in the road in 2018 should be in the past and I believe an All-AAC season is in store. Braswell and Ty Mason are just sophomores but look like impressive young DBs, having played 12 and 13 games, respectively. They are both special teams aces and will definitely see game action at DB. Kimere Brown would be here as well, but it appears he sustained an injury during spring camps that will leave him sidelined for a while.
Nate Wyatt, Chauncey Moore, and Elijah Clark are all freshman or redshirt freshman that did not see playing time last year. The previous coaching staff was very high on Wyatt, who they believed was an underrated DB. Chauncey Moore and Elijah Clark are also likely to see some action, even if they play a role on special teams this year.
Freddie Johnson also makes a position change to DB. I'm not sure if this is an instance of where a new staff comes in evaluates the players, and thinks there more suited for a different position, or its a need thing and Johnson is physically gifted enough to make the transition from WR to DB. He has been limited at WR due to both injury and the depth chart over recent years. My sense is the new staff felt he is a better fit at DB.
Freshman safeties
Further along the depth chart are two intriguing safety freshman. I am really excited about these two players: Thomas Joe-Kamara and MJ Griffin. Both players were ranked as mid-level 3 star recruits and attracted several other FBS offers. We are fortunate that both stayed with the program despite the turnover. Obviously things aren't as easy to predict when you are dealing with freshman, but TJK put up some huge numbers on offense and defense for his high school, he is a tremendous athlete. MJ Griffin is no slouch either, netting himself all-state honors as well as the highest rated recruit in the 2019 class. But rankings, ratings, and offer lists don't help you win games at the collegiate level. At the end of the day, we will have to see how they can do on the field. Their highlight tapes suggest their ceiling is high, so its of my opinion that the future is bright at the defensive backfield. It's possible they get some game action this season too. They both appear to be well polished players entering their first year.
other options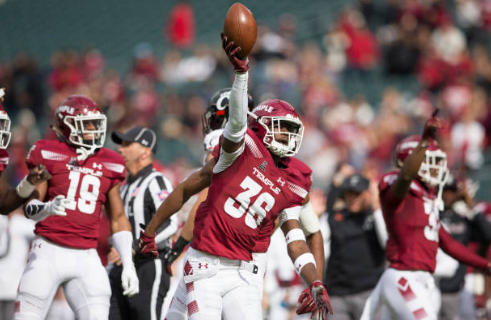 If the safety position becomes an even greater concern, the Owls can also turn to either Isaiah Graham-Mobley or Sam Franklin, as both are pretty athletic linebackers and could drop down in a pinch. I don't think it will come to it, but they are also options to move around. Its likely both will end up as a nickel linebacker anyways.
overall
Position Outlook: B-
Level of concern: moderate
I'm happy Fran Brown returns to also coach the cornerbacks. Melvin Rice appears to also be a solid coach, as does defensive coordinator Knowles. I like the new coaching staff from a defensive secondary perspective.
Given all of the turnover, I'm confident in the two starting safeties Walls and Monroe/Bruton as well as Linwood Crump and Harrison Hand, but behind those guys are some question marks. At safety, once you get behind Winston, there are experience concerns. Anthony Cruz has played special teams but is a upperclassmen, Amir Tyler has seen limited action, as has George Reid. I think there is a real possibility we see either MJ Griffin or Thomas Joe-Kamara, or both.
At corner, behind the likely starters of Crump and Hand are two up-and-comers in Mason and Braswell, who I think are solid level DBs. They too need some seasoning, but they are more than capable. They younger guys behind them will have to contribute at some point this season. It's unlikely the 5 or so DBs ahead of them will stay healthy the entire season. Not entirely sure what to make yet of Freddie Johnson. Overall, there are depth concerns at both safety and corner.