With summer camps well underway and the recruiting season in the "dead" period, I figured now would be a good time to see where the Owls stand on the recruiting trail. The last update was at the end of June, and since then Carey and Co. have added several new pieces. In total, the Owls have added 8 recruits since the preview update.
---
New Commits on Offense
sam davis, OL, Ohio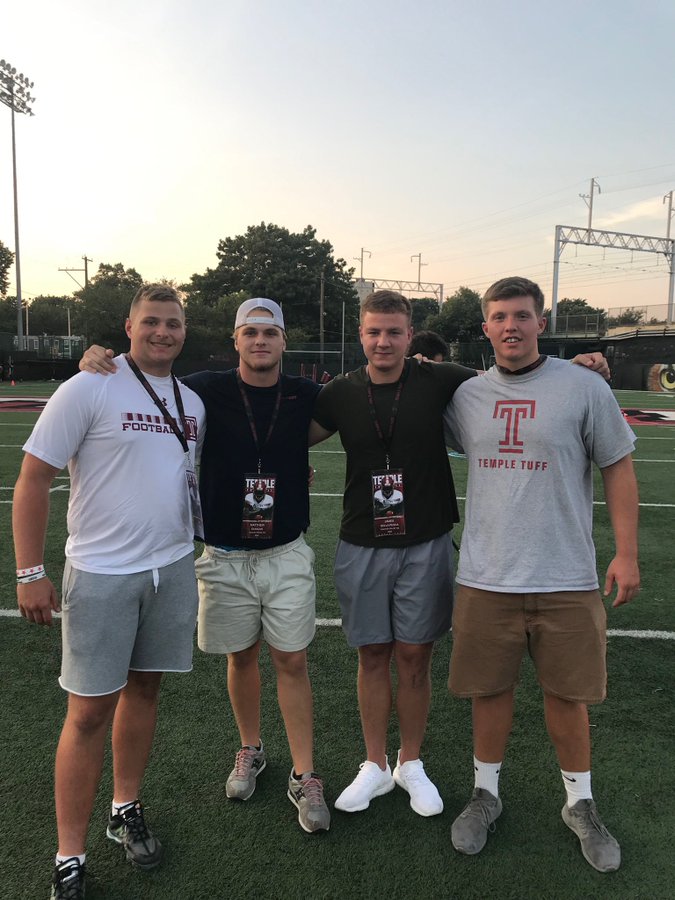 Davis was featured in my piece about offensive lineman from last month. This is his formal introduction to the Temple commitment list on Acres of Diamonds. Davis is a 6'5″ 270lb OL out of Geneva, Ohio. He is a 3 star prospect on both Rivals and 247Spots. Likely destined for a redshirt year, Davis looks like he will develop into a really strong offensive line prospect. A good build, quick feet, aggressive off the line, he needs to sink his hips more and build some upper body strength, but he there is a lot to like here. It's a strong get for the coaching staff. He chose Temple over Rutgers and holds other offers from Cinci, Colorado State, Army, Tulane, several MAC schools, and FCS squads. Hudl below:
https://www.hudl.com/video/3/7806132/5bd662d20c539b0790a4f287
Bryce thoman, OL, PA
Out of Central Dauphin near Harrisburg, Thoman camped at Temple and earned his offer. He is also 6'5″ 275lb. The coaches got to see him in-person and felt like he was worth the offer. He committed shortly thereafter. Also has a good frame and plays both ways for his high school. A good overall athlete that will likely become a guard at the next level. Doesn't quite have the same quickness off the ball as Davis does. That being said, he is still a very solid addition for the staff.
Hudl: https://www.hudl.com/video/3/8286524/5bf59e588cde7b158c25637e
chris long, ATH, NJ
The wide receiver out of Willingboro NJ is Temple's highest rated commit. Temple is likely recruiting him at DB, which sets them apart from the other schools that were recruiting him at WR. But for now since he is listed as a WR, I'm putting him on the offensive side of the recruiting update. Largely considered one of the top 25 or so players in the state of NJ, Long was on more than one occasion considered a Rutgers lean. Fran Brown was able to convince Long that his NFL potential exists as a DB rather than a WR. We will find out soon enough as he may be able to see the field early. His other offers included Maryland, Louisville, NC State, Baylor, Pitt, UNC, Nebraska, BC, and others. This was a huge commit for Fran Brown and Temple.
---
Defense Additions
chazz wallace, DT, M
The 3 star defensive tackle committed to Temple over offers from Rutgers and BC, and is receiving other P5 interest. Does hold Louisville offer as well in addition to Buffalo, Coastal Carolina, UMass, Liberty, Kent State, and more. He is a 6'2 275lb DT that performed very well at regional camps, besting some higher ranking OL. He's strong and quick. He's got that "quick twitch" you like to see out of your DT. I think the potential is really high for Wallace, who could get starting time as a freshman or redshirt freshman given the depth chart. Again, he is still getting interest from several P5 programs despite his commitment, something to keep an eye on. Hudl below
https://www.hudl.com/video/3/8000141/5ba292693448d30d24e8d717
Darian Varner, DL, Virginia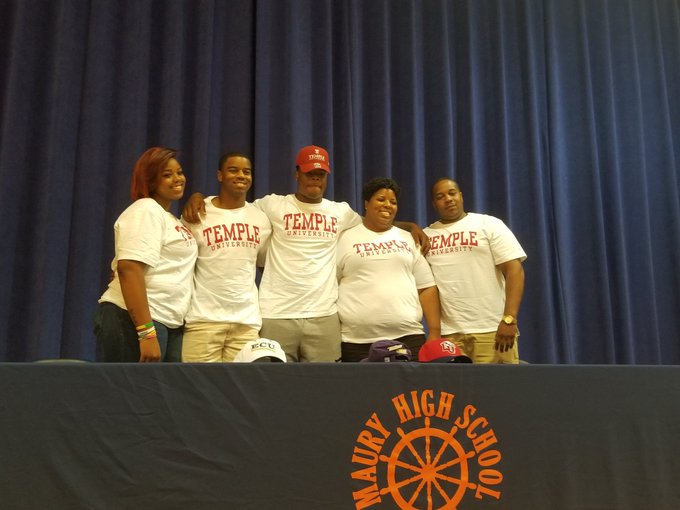 Another DT for Coaches Knowles and Brown to work with. He is 6'3″ 260lb two-way lineman that is destined for the defense. Can line up basically anywhere along the line, he will be asked to bulk up a bit and plug the middle. The Norfolk native came down to ECU, Liberty, and JMU on his table at his announcement at Maury High School. He then pulled out the Temple hat from underneath the table. Varner is flexible in that he can play anywhere along the defensive front. He also held Kent State, Coastal Carolina, Charlotte, and several FCS offers.
chevez trask, DE, Georgia
He should've been on the previous recruiting update, but his commitment came more silently. The 6'5 225lb defensive end camped up at Temple and earned his offer. The Georgia native showed the staff that he wanted to be here, has the tools to become a playmaker at this level, and the staff returned his efforts with an offer. A below-the-radar defensive player, Tresk will come to Temple with great length and athleticism. He is also a basketball player and any athlete that can play two sports is a good addition in my opinion. We will just have to see how he develops over the years.
muheem mccargo, ATh, NJ
McCargo is another highly ranked NJ recruit out of Woodrow Wilson, which keeps pumping out FBS prospects as a public school. McCargo was down to Rutgers and Temple, but sided with Temple at the end. He is another top 50 player in NJ and can play both sides of the ball. Most of the Rivals/Nike camps he has played RB, and he does so at WW as well. Over 900 yards rushing 12 rushing touchdowns, just shy of 400 yards receiving, to go along with 105 tackles of defense. I love me a stat sheet stuffer and that's what McCargo is. Listed at 5'11" and 200lb, he is a little bit undersized right now for a linebacker, but the staff might consider him at safety. The fact that he can essentially play RB, LB, and S suggests that he is a tremendous athlete and the Owls should be quite pleased to have him join the recruiting class.
Garrett williams, DB, virginia
Coming off an injury in 2018, it has been a long road back for Williams. He had been receiving interest following his sophomore 2017 campaign from Syracuse, Virginia, and several other FBS programs. However, a leg injury sidelined him for 2018 and now he had to go to a Temple camp to earn his offer. He is 5'10" and 190lb, so average size at DB. His Hudl is below, and don't be surprised if he starts getting interest from other programs once again.
https://www.hudl.com/video/3/7838971/59df71d464e96c0d6091bee7
---
Other recruits to keep an eye on
Kenny Tracy, RB, Indiana
Preston Zachman, LB, PA
Neche Ugwuozor, LB, Netherlands
Masyn Lilly, DT/OL, Florida/Delaware
Where the staff will go from here
Temple is still technically searching for a RB for this class. McCargo and some others could slide into that position, but they are being recruited elsewhere it appears. I'd like to think the Owls have shot at 3 star RB Kenny Tracy, who visited from Indiana. It also appears they will try to target another LB. They have 4 OL committed so far, perhaps 1 more on top of it but are going to be handing out preferred walk-on spots thereafter, which is where Lilly stands. At 18 commits, the Owls will likely end up at 23 or 24 total, leaving only a few spots left to shore up some weak points. RB, LB and DE appear to be the greatest need. Adding another 2 or so athletes that can play WR will also be needed.
As always, nothing is certain until all the paperwork is signed and the players arrive next summer. It's a long way to go until then.