As we inch closer and closer to the start of the season, camp reports are coming out fast and furious. Football programs are posting their hype videos or highlight videos, UCF has sold out its allotment of season tickets, and September is only 2 weeks away. The start of the football season is my favorite time of the year.
I am excited about AAC play this year. I have previously posted my expectations for Temple and my preseason power rankings can be found here. In this post I want to look at some players that you haven't exactly heard of, but have the potential for elite play this fall that will make them household names. This isn't going to be a list filled with D'Eriq King or Patrick Taylor Jr or the UCF backfield. I think these are guys that are poised for big years in 2019. You can certainly argue that some of these players "broke out" last year, but again, they are not exactly household names just yet for various reasons (ie. being on Tulane as opposed to UCF). Those more devoted to AAC play will recognize some of these names, but I think these players will continue to perform well and further make a name for themselves nationally.
---
10. Darius Bradwell, rb, tulane
Not sure you can be a breakout player when you rush for 1100 yards and 11 touchdowns. He will return as the second leading running back with 20+ yard runs in the AAC. Expect more explosive plays in a league with explosive runners. He does not get the same kind of love as those other RBs in the conference, which is a shame. You will hear more from Bradwell, who could leap to the top of the AAC as one of the best in the conference by year's end should Tulane exceed expectations. Remember the name.
9. richie grant, safety, ucf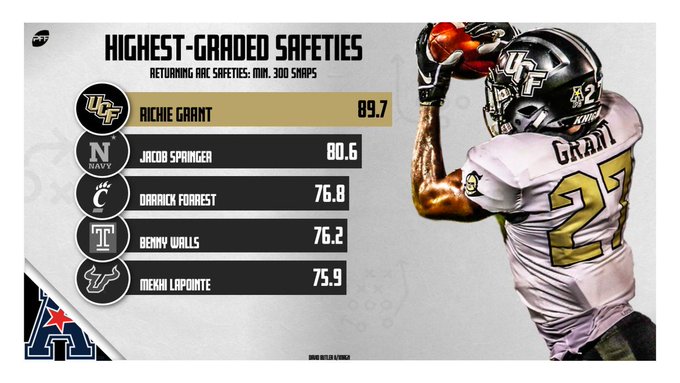 Grant is one of the best DBs in the AAC. In addition to being an elite pass defender, Grant accumulated 109 tackles, 6 interceptions, and 3 tackles for loss. He makes plays all over the field and is an absolute beast when it comes to manning the defensive backfield. Only a junior, Grant is just a fun player to watch. Most at UCF know who he is, but the rest of the conference is going to be hearing his name quite a bit during this season. He is one of the best overall defenders in the AAC, but not necessarily a name we think of. Too late to already have a true breakout year in the AAC, Grant can only breakout further with national discussions because he is currently not considered to be drafted. He can change that with another outstanding season.
8. BLAKE PROEHL, WR, ECU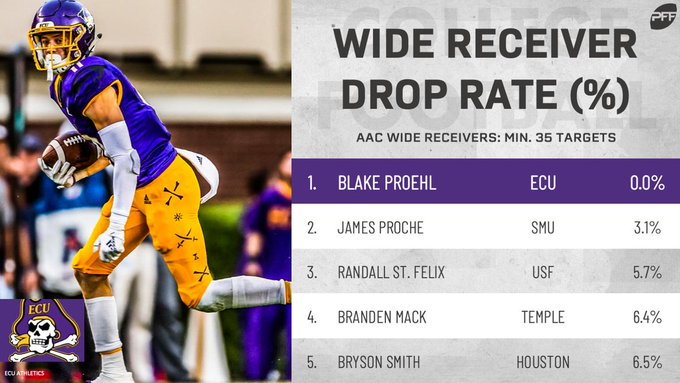 Sticky hands aren't his only strong attribute, Proehl comes from a strong lineage of NFL talent and had 11 receiving yards per reception last year. He will be ECU's top receiving threat this season from the rising sophomore. Mike Houston inherits low expectations for this year's ECU squad, but he is expected to help rejuvenate the program rather quickly and Proehl will be tasked with putting up some big numbers in the offense.
7. Randall st. Felix, wr, usf
If you don't know his name now, you will this fall. Randall St. Felix averaged 20.5 yards per reception and showed explosive potential on the outside for USF last season. He also catches almost everything that comes his way. Darnell Salomon looked every bit of a 4 star receiver at times, but he left the program which means TE Wilcox and St. Felix will receive plenty of targets coming their way. In an offense that is expected to be explosive, St. Felix is a name you will hear a lot this fall.
6. Otis anderson, WR, ucf
In an offense full of weapons but with a now less than ideal QB situation, Anderson may be a curious addition to this list. He flashed his all-purpose potential against SMU, Temple, and again when they played Memphis. He doesn't get the same recognition as McCrae and Killins for obvious reasons, but Anderson is a quick RB that can also line up in the slot and create matchup problems. UCF can also utilize him in the return game. He has yet to have the type of performance many UCF fans had hoped for, but 2019 is a new year, and UCF fans are hopeful a healthy Anderson can emerge with big plays. Remember the name come November.
5. Courtney lark, WR, Houston
Hard to have a breakout season when you already have 1700 yards at WR returning with Stevenson and Corbin. The former 4 star WR was sidelined with an injury, but the 6'2 200lb deep threat can flourish in Holgerson's offense. He is a candidate for comeback player of the year if all goes well with the Houston offense. He could have a 600+ yards and 5-10 touchdown type of season if he remains healthy. The offense will undergo some changes and they have to replace some offensive lineman, but Lark has the big play ability to change the momentum of a game.
4. Quincy Roche, DL, temple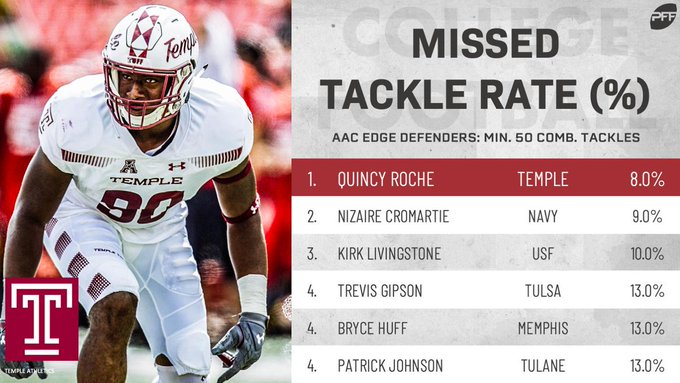 In addition to his 6 sacks last season, Roche accumulated 2 blocked punts/kicks, 2 forced fumbles, 9 tackles for loss, and is currently nominated for numerous preseason awards lists. He has been limited at times due to injury, but Roche is one of the better defensive ends in the AAC. Big plays seem to follow the big DE as he is also one of the surest tacklers in the AAC. He ranked 2nd in the AAC by PFF as an edge rusher, but his overall grade is well behind Johnson. Still, with the special teams impacts he has, Roche will be a big factor in every game this season. He is poised for a breakout season and could potentially reach double digit sacks. You will see in some of the next graphics below that Roche and Johnson tend to be #1 and #2.
3. Patrick johnson jr, dl, tulane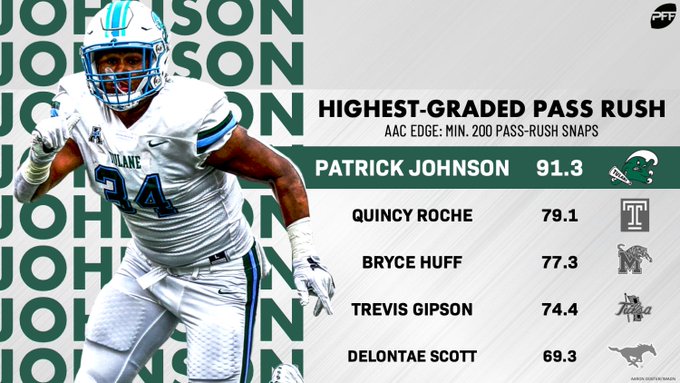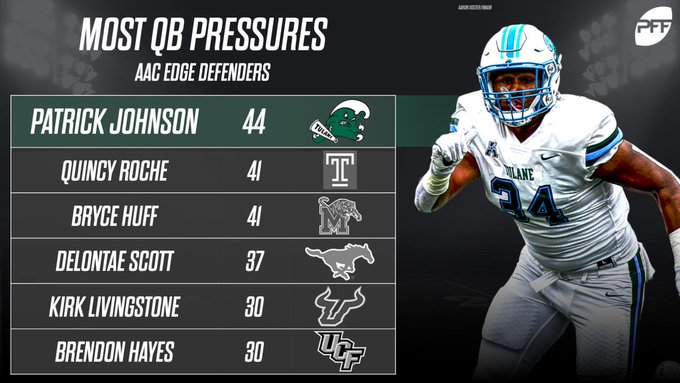 Did you know last season Tulane led the AAC in sacks? A big reason for that was Johnson, who accumulated 10.5 sacks on the season. By far the best edge rusher in the AAC according to PFF, he is the first player in 37 years for Tulane to record double digit sacks. It is no surprise he has made it to some preseason award watch lists. One of the better defensive lineman in the AAC is on a sneaky good Tulane team that is a dark horse in the AAC West. Keep an eye on Cameron Sample as well as Tulane's front seven can create issues for opposing offensive lineman. Johnson was also 5th in the AAC last year in tackles for loss. Not yet a well known name nationally, another big year should put Johnson on everyone's radar. He is a candidate for defensive player of the year.
2. Matt hennessy, Center, temple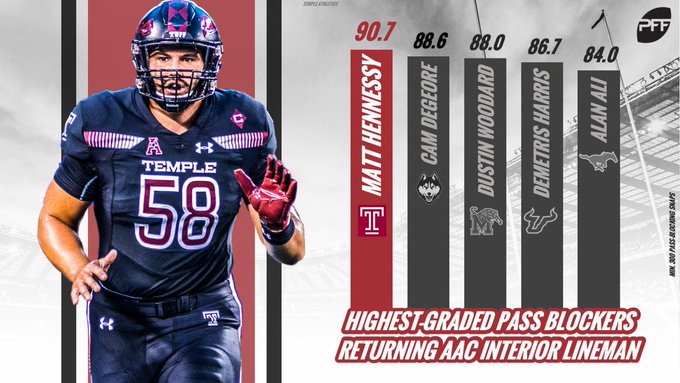 A little bit of offensive line love here. Last season he snapped the ball 395 times and only allowed 2 QB pressures. That's pretty incredible. For people that love to follow offensive line do work, Hennessy is a great center to keep track of. There is a ton of talent on the offensive line in the AAC, but his PFF grades are hard to ignore. Plus, a QB pressure rate of 0.5% is pretty damn impressive. Unlikely to be a household name by season's end, Hennessy has been named to numerous preseason award watch lists and is once again likely to end up as an All-AAC OL. The NFL likes it's centers to be able to play both center and guard, so draft day is no sure guarantee. Still, Hennessy is one of the best centers in the entire country but overshadowed by UCF's Jordan Johnson, who is also one of the best centers in the country. Is he truly a breakout candidate when he has performed well the last 3 seasons? At this point, not really, but his consistency deserves some recognition behind Johnson.
1. MALCOLM PERRY, QB, NAVY
Ok, I cheated, I listed a QB. In my defense, Perry only threw for about 200 yards and ended up being switched over to a running back where he accumulated for 1100 yards. He enters this season as the sure-fire starting QB. If he can stay healthy and improve upon his accuracy, not to mention improved offensive line protection, Perry can easily pop up some big numbers. Not exactly considered a top shelf QB in the AAC, Ken Niumatalolo is hoping his starting QB can turn into a star. Perry is due for a breakout performance this season, otherwise Niumatololo may not be back. I think Perry will perform well, but Navy's season outlook still appears bleak at best. The schedule suggests another 3-4 win year ahead, but with Navy, anything is possible. Perry has all the tools to become a big name in the AAC and with the offense running through, a chance to put up big numbers.