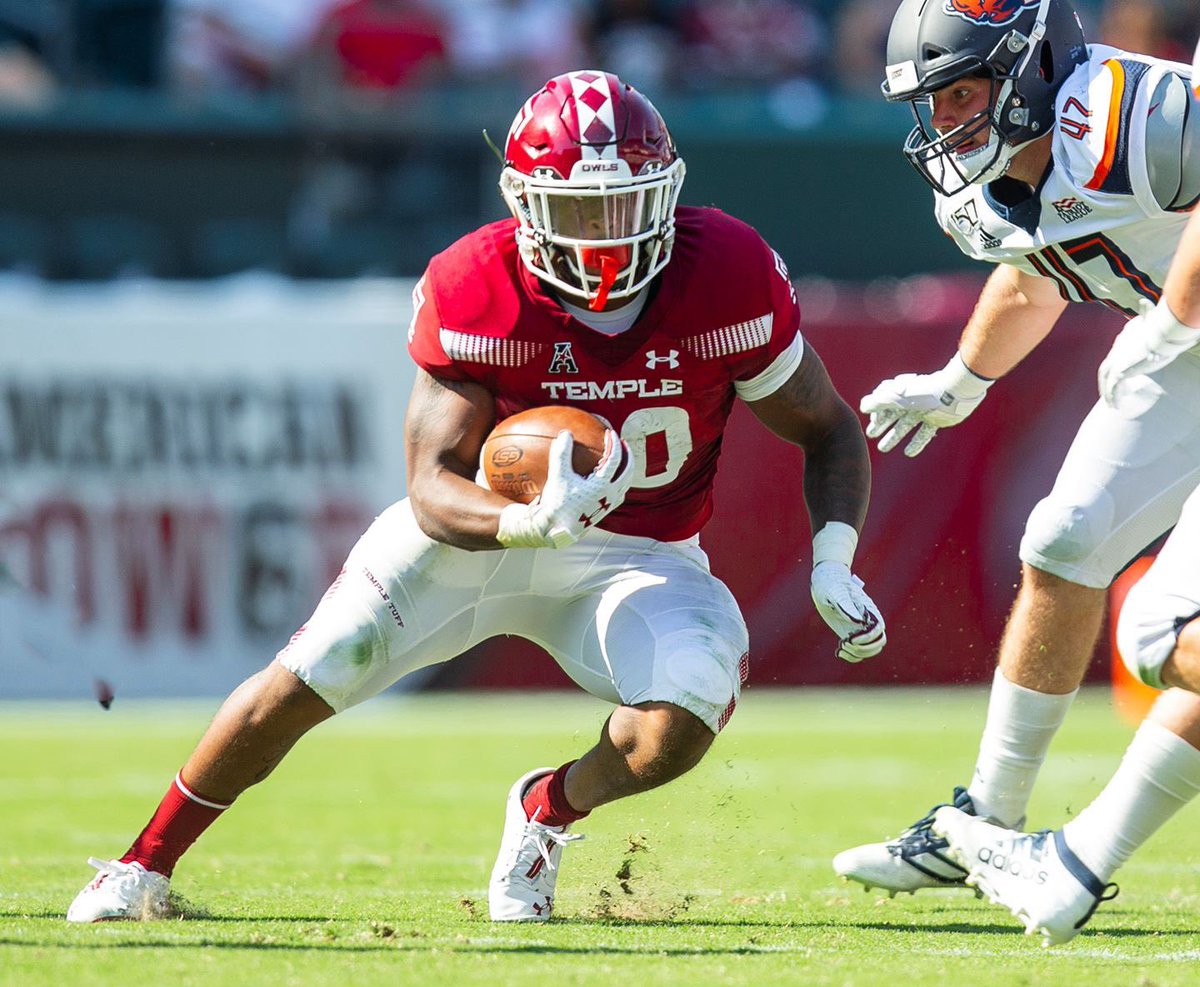 After an unusual early season bye-week, Temple football is back in action against Maryland this Saturday. The Terrapins were active last weekend, facing off against #21 Syracuse and beating them thoroughly. Maryland will head into the weekend a ranked opponent and favored on the road.
This game will be a litmus test for Temple, who as of this writing are touchdown underdogs. Maryland clearly has a potent offense that will challenge Temple's depth.
maryland offense
It has not taken Mike Locksley too long to get things going at Maryland. Having been an offensive coordinator since 2012 at Maryland and then last few years at Alabama, Locksley has helped engineer and pretty potent offense so far this season scoring 79 and 63 points in two games. QB Josh Jackson had stable of running backs behind him that cruised to a historic win over Syracuse. I mean, that offense looks efficient and smooth under Locksley. McFarland was the presumed favorite to receive the largest share of the workload after a breakout season last year but the running back touches have largely been even through 2 games, much of it difficult to ascertain who is the #2 RB and so forth since they've been dominant the first two games. The receiving situation has been similar, with Jackson spraying the field. Their top 3 receivers are likely Darryl Jones, Dontay Demus Jr, and slot receiver DJ Turner. They looked good this past weekend and should remain a handful for Temple's defense. Tyler Mabry is a transfer from Buffalo who has done well as a run blocker and presents as another sneaky receiving threat.
One of the bigger question marks for Maryland heading into the season was on the offensive line where they had to replace some players. They have some guys returning with experience from last year, but this group has largely been untested the first 2 games. The offensive philosophy has shifted from run game heavy to more spread out, offsetting and concerns about line continuity.
maryland defense
New defensive coordinator Jon Hoke has been bumping up and down between the NFL and college football over the last 15 years. Maryland has recruited well on defense, but overall lacks known commodities. Antoine Brooks at safety has all-conference ability, as does Tino Ellis at DB. Their DBs have seen some turnover and they are hoping 4 star DB Nick Cross can log significant minutes as a true freshman. So far so good on that front.
At LB, OSU transfer Keandre Jones along with Clemson transfer Shaq Smith were the big name additions to the lineup, but Smith has only played in 1 game. Jones has done well and Sophomore Ayinde Eley, who measures at 6'5″ 225 lb, has been strong. The linebacking group in general looks decent enough through 2 games. They've been a bit susceptible in the passing game and I'm sure there is game film that the Owls can use here.
The biggest question mark heading into the season was actually their defensive line. They have lost a ton of production to the NFL, graduation, and attrition. However, the front 7 generated enough pressure to achieve 4 sacks against Syracuse, lead of course by LB Keandre Jones. I'm not really counting the Howard game because, well, its Howard and that game wasn't a true competition (and you could argue neither was Syracuse). Oluwaseun Oluwatimi is the name to remember along the DL. Keiron Howard is a 5th year senior that is the other name to watch along the DL. For now, they simply don't have many known players, making it a shaky position group in a very long Big 10 season.
Still, their defense S&P+ rank is 64, attesting to their coaching staff plugging in the right guys considering all of the turnover. They are swarming to the football and also rushing the QB.
maryland overall
Temple entered the bye week slight underdogs and now enter game week as full on touchdown dogs. Maryland still has some question marks, especially in their front 7. They've had success with pressuring the QB but consistency will be important for the group as they head into the main portion of their season. Maryland will have a bye-week next week, so there is no opponent for them to look forward to other than playing Temple. They will be out for revenge after what they consider to be an embarrassing loss at home last year.
temple depth chart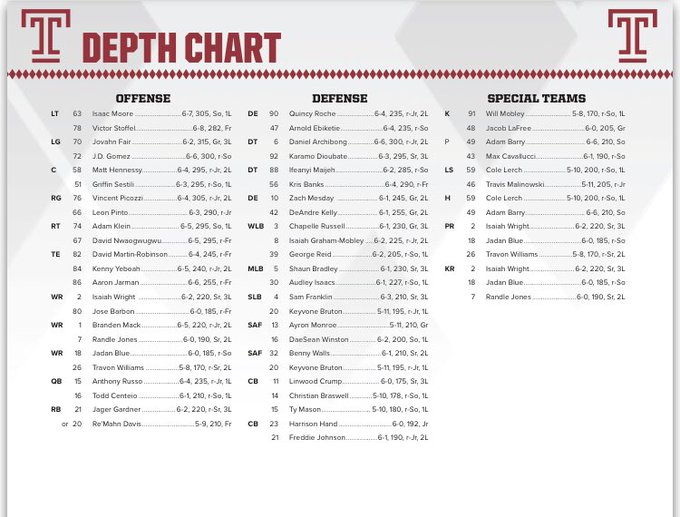 Not much has changed from two weeks ago other than flipping Johnson for Hand as starter at DB with hand recovering from an undisclosed pre-season injury. Davis appears to have a stranglehold of the #2 RB spot and there is no mention of Dobbins or any other RB. At TE we see that Kenny Yeboah will make his return to the lineup. At DE we still appear to be thin without Dana Levine. Hoping to see more of Madourie and the underclassmen rotate in and make some plays. Kevin Robertson should return at DT but both Maijeh and Banks look ready to go this season.
---
Next up: Key Factors for Temple heading into the MD game