After going idle last week the Owls were back in action against a red-hot Maryland squad averaging 70 points per game through their first two weeks. The Owls had to hear all week how imposing the Maryland squad will be, a power 5 opponent ranked #21 in the country. Maryland heard it too, their offense now unstoppable, a new QB, a better team.
On Saturday, none of it mattered as Temple's defense stymied the Maryland offense. Temple was able to consistently pressure Josh Jackson and after 10+ QB hurries and 4 sacks, he probably was wishing the bye week came 1 week sooner. Three times the Maryland offense had the ball inside the 10 yard line and got a total of 0 points out of it. That's some stubborn defense. Coach Knowles and Coach Stewart had the boys ready to roll.
Offensively, Jadan Blue has been a revelation with his big play ability. Russo was up and down with some questionable decision making, but he also threw some darts. The offensive line could not possibly play any better. Maryland has a better defense than most people think as they have several big time transfers and recruits making their way into the starting lineup.
Some further observations:
---
offense
They did what they needed to do on offense to help win the game. Not the prettiest of efforts, but this sure was a nice surprise:
Davis continues to display great vision and burst, every time he touches the ball you feel like he can break out
Branden Mack may not have statistically had the game he wanted, and he dropped a catch he shouldn't have, but his play caused several pass interference calls that allowed Temple to score. That won't show up on the stat sheet.
Uremovich played not to lose and was really bailed out hard by the defense. I continue to be lukewarm about his offensive style but he seems to understand his players better than Patenaude.
Russo did not have his best game. Relies too heavily on his arm and it seems as though he doesn't quite read the defense as well as he should. I have concerns about his play but he made some good changes at the line of scrimmage. Overall a so-so game that could've been made a lot worse if it weren't for the fortuitous defensive penalty to negate an interception and a long pass play to Jadan Blue that was a result of clumsy defense.
Jadan Blue looks like a really, really, nice find by Collins
Isaiah Wright has been utilized well, a plus for the staff. Still probably doesn't quite see the ball as much as he should, but with the emergence of Davis at RB, probably for the best. Get him some more quick slants and screens please.
defense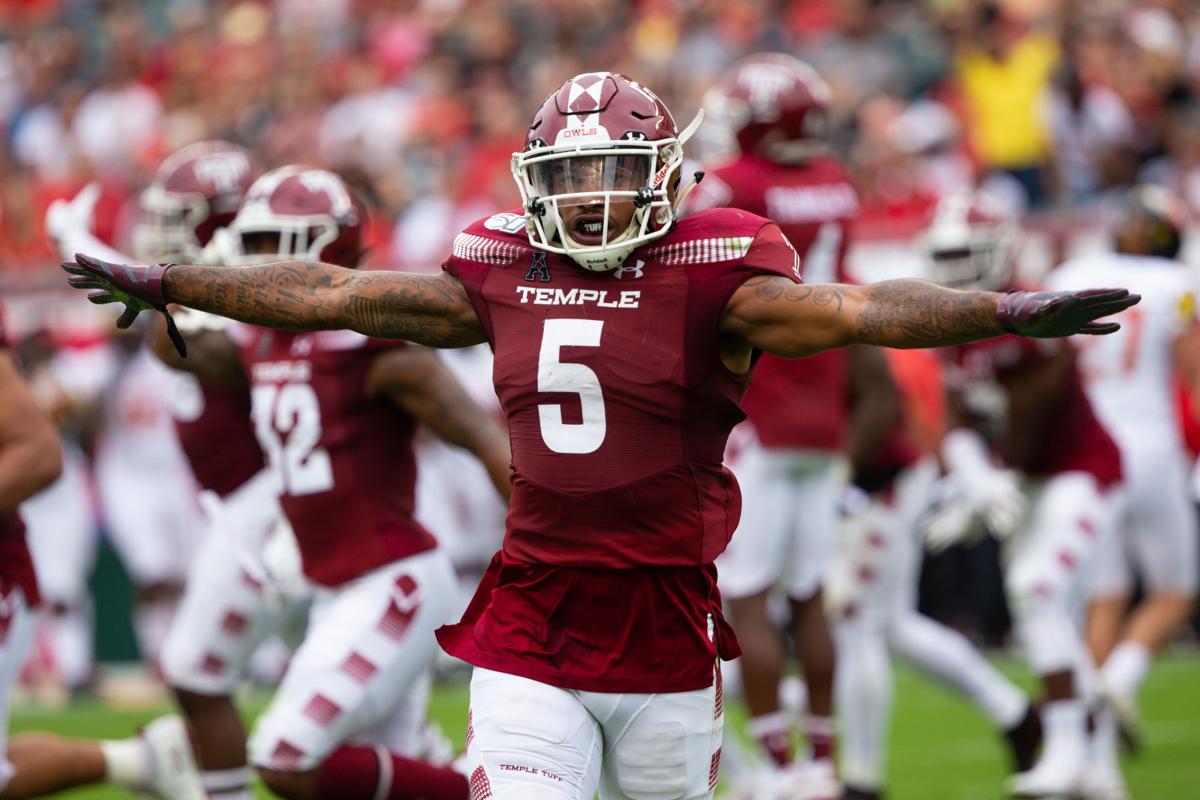 Probably the best performance I've seen since PSU opening weekend with the 10 sacks. Just a complete game from start to finish.
Collins most gracious gift to Temple will likely be Maijeh, who absolutely dominated at times. Maryland eventually figured things out and started to double him. 2 sacks, 3 TFLs, 6 tackles total, run stuffing specialist, creating all kinds of problems for MD. And he blocked an extra point. Fantastic game.
The rest of the defensive line was still great. Roche had an infinite amount of QB hurries. Mesday with his own sack. Other guys like Ebiketie, Banks, and Madourie held there own and helped assist with some of the key redzone stops, especially Banks up the middle.
Chapelle Russell, Shaun Bradley, Sam Franklin, IGM combined for 16 tackles, 4 TFLs, and highlight reel defensive plays.
Harrison Hand looked pretty sharp in coverage, as did Freddie Johnson. I think the backed of Monroe and Winston could have been sharper and they were a bit slow to react at times.
Shaun Bradley is a stud
special teams
Can't imagine Barry having a worse game than this. Owls do have another punter on the roster. His body language was awkward and his mechanics didn't seem fluid. The way he was striking the ball suggests an approach issue. There are some serious concerns and I honestly wouldn't be surprised if the Owls held a tryout session for a punter. Seriously.
Will Mobley looked almost as uncomfortable, missing a field goal. Thankfully LaFree looks good on kickoffs still but those line drives are gonna be problematic for the coverage team if they start getting run back.
Punt coverage team will be doing tackling drills this week. No excuses for allowing that big play at the end. Kudos to Ty Mason for not giving up on the play. He saved the game, and perhaps the season.
---
All in all, a lot to like about a gutsy defensive performance. Plenty of things to clean up as well. I think we should've beat Maryland by 2 touchdowns. We were clearly the better team. Two drives were stalled by turnovers, one an interception by Russo and another after a nice run by Gardner as he broke free for a big gain. More points could've been had but at the end of the day the Owls are 2-0.
Now onto Buffalo! Owls look for revenge from last season.