temple football primer 2020
Owls should be bowl eligible, but will Rod Carey eventually win one?
Senior QB Russo will have coaching continuity for the first time as starter
WRs Jaden Blue and Branden Mack had 1900 yards receiving combined
OL and RB return lots of experience
Front 7 on defense will have to find replacements
Lose a lot of production at DE and LB
Much of the sports world has turned on its head with the spread of the worldwide pandemic COVID-19. Indeed, it appears disingenuous to post about sports while thousands get sick every day in the U.S and many more around the world. To the frontline workers and essential personnel, thank you for your service.
Temple football offensive preview
The focus this season will be on both QB Anthony Russo and RB Re'Mahn Davis. Russo enters the season after posting 2800 pass yards, 21 TDs and 12 INTs. He is poised to have a strong senior season with some continuity among the coaching staff. He will need to limit mistakes and control himself as a senior should. He can sling it with the best of them but needs to play smart. He has 35 TDs and 26 INTs through his 2 years as starter. Generally overlooked in the AAC, he should have a chip on his shoulder.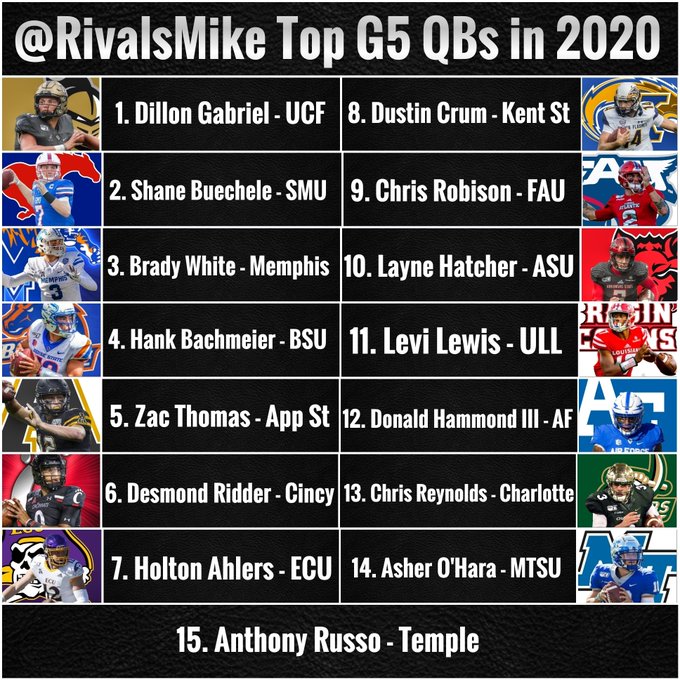 The QB room is packed, the Owls officially have 8 QBs on the roster. But behind Russo awaits no starting experience. Backup QB Centeio has transferred to CSU for a starting role. Behind Russo is incumbent backup Trad Beatty, who has some snaps to his name. Iowa transfer Re-Al Mitchell, who looks like a more polished Centeio out of high school, but may not get a waiver to play this season, leaving Kennique Bonner-Steward as the 3rd string. Matt Duncan as a true freshman is unlikely to see game day snaps at all this season. And walk-ons Kamal Gray and Matthew Vitale may be better suited at the FCS level. Gray was an all-state QB and could be successful, just not in the AAC.
Upfront will feature Picozzi, who is featured on Athlon's first team All-AAC. LT Isaac Moore will have to take the next step up as a junior but has the tools to continue to develop. Adam Klein could occupy the other T spot but has some positional flexibility and also brings 26 games of experience. Joseph Hooper filled in at RG for Picozzi when he went down with an injury and could feature in as either C or G. Griffin Sestili had some injury woes last season but has about 15 games of rotational experience last two years. OG/C Leon Pinto has filled in at both position last season and can rotate as needed throughout the OL. NIU transfer CJ Perez can also play C or G and has started at both positions the last two years. Dayton transfer Michael Niese was an All-Pioneer selection last season and can also play tackle. The coaches have talked a lot about Nwaogwugwu whose development has probably been hindered with the stay-at-home orders. We will see if any of the freshman or R-freshman get some game time as I expect Donaldson, Stoffel and Fowx to get some action too. There are a lot of options at Temple along the OL, despite graduating Matt Hennessy who has gone onto the NFL. My expectations are for the OL to be a strong position this season.
At RB, Davis returns with a pretty good chance at cracking 1000 yards rushing this year. He has all-conference potential and is listed on Athlon's All-AAC third team. Behind him it gets a little dicey. Ruley go some snaps in but there are a lot of question marks here. Onasis Neely was a prolific runner in HS and could get some playing time. The assumption is Dobbins, Ruley, and Mitchell will split some time. Saydee has been talked about by the coaching staff but he has made most of his impact on special teams so far.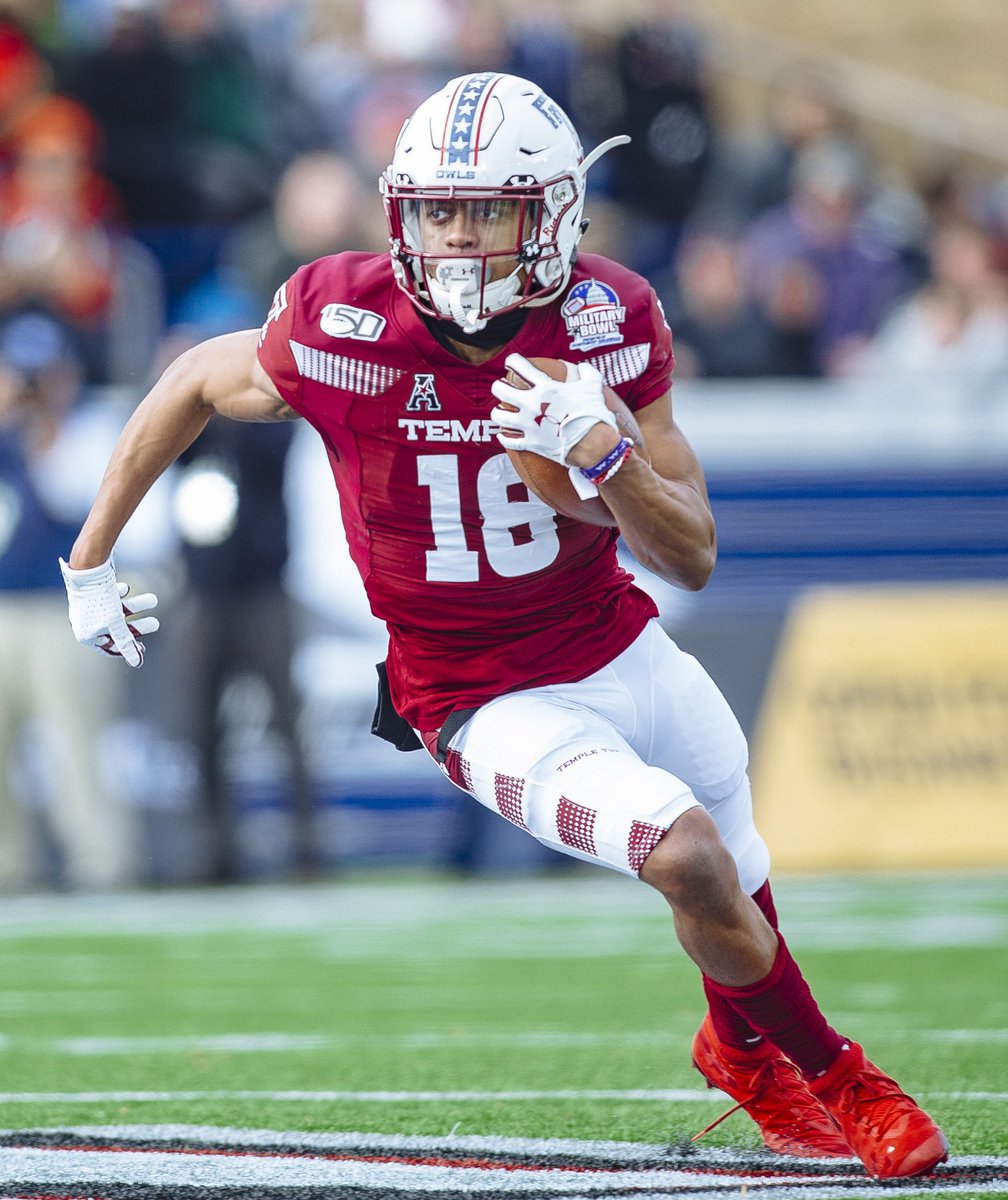 At TE and WR the Owls are flying aplenty. Blue and Mack return for 1900 yards combined. I will be very interested to see what happens if Nazir Burnett gets his waver granted. Kwesi Evans has been mentioned as a guy that could breakout this season. Jose Barbon appears to be the most primed to be the #3 WR on the team, having the 4th most receptions of the player's that are returning (Blue, Mack, Davis). Jordan Smith is essentially a carbon copy of Mack, so he could be a guy that shows up in the redzone. David-Martin Robinson (DMR) and Aaron Jarman are guys that the coaching staff feel like can fill in at TE. DMR is quite athletic for the position. Temple is deep at TE with younger Picozzi, transfer TE Darius Pittman (more of a blocker), and Tyler Sear all in the mix. Its a good group but lacks explosiveness after Kenny Yeboah left for Ole Miss.
Offensively the Owls looks poised for a strong season. But that depends on how much Uremovich wants to open the playbook. The team really struggled after the opening stretch and looked lost in their blowout losses. The offense appears to be geared toward the college game as opposed to the early-mid 2010's pro-set. That helps the offensive line but can limit the skill positions if they aren't able to out-maneuver their defensive coverage. Temple has struggled with athleticism on the offensive side of the ball. Jadan Blue seems to have done a great job as a safety valve for Russo, but the offense has sputtered in prolonged periods during the back-half of last season. I don't see much changing this season without a different offensive philosophy. This personnel doesn't seem to fit what Uremovich is trying to do. I envision another season where Temple ranks in the 75th percentile in offensive production.
That could work, but the defense….
Temple defense preview
Temple suffered significant casualties to the transfer portal and graduation. Gone is all-world DE Quincy Roche who has moved on to Miami where he immediately jumped into a 1st/2nd round an All-ACC discussion. It was a good career move for him, no matter how much it stings for Temple fans. At best, he was getting mid-round discussion at Temple.
DE Dana Levine also finds himself on an NFL roster. Zach Mesday and DeAndre Kelly are gone too. So is Karamo Dioubate. All starting LBs have to be replaced.
Temple returns just 38% of its defensive production from last year, good for a rank of 123rd in the country (ESPN). For any defensive staff, that is tall task. Fortunately Temple does return Maijeh and Archibong along the interior. Maijeh alone had 34 QB pressures last season. He will need to replicate that number for Temple's defense to have success this season. I expect to see Kris Banks continue to rotate in at DT as he did for all 13 games last season. He's going to be a good one. SR transfer DT Kevin Robertson saw some rotational time and figures to see some increased snaps. Its possible the trio of highly talented freshman of Morris, Bags, and Varner get some snaps. The depth is limited behind Banks and Robertson. At DE the immediate impact transfer Walker will figure into the rotation heavily. Ebiketie will transition from situational pass-rusher to full-time DE. Travon King and Layton Jordan are still a big on the skinny/light side and have not had much opportunity at DE but will have to step up in that roll. They are desperately thin on DE in both experience and in AAC ready bodies. It's a similar situation where the young guys will have to step in. Its not that I don't think they will be successful, but the interior will have to be the strength. And you never know, perhaps Ebiketies breaks out and has a tremendous season. The upside is there with him. I think the true freshman Dyshier Clary is another one that can develop into a starter, just not yet.
At LB Temple suffered its most significant losses with all 3 starters leaving for the NFL. That's tremendous news for an AAC program to transfer its entire starting unit to the NFL. Hats of to coach Matt Rhule for bringing those guys in and for coach Collins and Carey for continuing to develop that talent. It says a lot about Temple coaches when they churn out 15 draft picks and others who make NFL rosters every single year.
LB Isaiah Graham-Mobley and William Kwenkeu return with a ton of experience and are the presumed favorites for starting roles. Yvandy Rigby will probably feature in a rotational role, but I think Audley Isaacs, who saw increased playing time towards the end of the season, could actually push for starting time over Kwenkeu. Temple will employ a BUBO position, sort of this hybrid nickel LB role. If Kwantel Raines gets his waiver, he seems to be the prototype for that role. Speedy LB with the range of a safety. If he can't get the waiver, then Thomas-Joe Kamara and a player to be determined later will fill this role. Aside from the first 4 players, the LB position seems to be up in the air, particularly regarding depth. Don't overlook highly touted freshman Kobe Wilson, either.
At DB the Owls appear to have another strong core setting up for the 2020 season. Christian Braswell returns as Athlon's 3rd team DB. He will be joined by a rehabilitated Linwood Crump, who had a tremendous 2018 season and was one of the best coverage DBs in the AAC. If he returns to form, the Owls will have a strong backfield. Kimere Brown also returns from an injury having rotated in all 13 games in 2018. Freddie Johnson transitioned from WR to DB last season and will likely be the opposite corner to Braswell if Crump can't go. Johnson can also line up in the slot. Ty Mason is another name to keep an eye on as he saw some snaps too. This is another position where there are plenty of uncertainties. If they are returning healthy, this is a very good unit and may be one of the more underrated ones in the AAC. If not, then depth is a concern.
At safety its likely that DaeSean Winston returns to a starting role. He struggled a lot in some of the blowout losses. Amir Tyler and Chauncey Moore are two other guys that saw a lot of snaps last season and should continue to see a lot of game action this year. R-Fr MJ Griffin is the real deal and could turn into an NFL talent. I think he sees playing time this year. JUCO transfer Jalen Ware has plenty of game day experience too. Not overly enthused about the safety position this season, but it could be worse.
Overall, I think DL coach Stewart and LB coaches Knowles/Diersen will have their work cut out for them. Stewart in particular will have to find a solution at DE and also some depth. LBs have some guys to work with and should be OK.
Defensively it is pretty reasonable to expect some regression this season, which for Temple fans might be a scary proposition considering some of the humiliating losses they endured last season. I think they remain in the top half of the FBS, but barely.
At the end of the day
The schedule isn't particularly grueling, but non-conference opponents in RU and Miami could set the stage for an interesting season. Temple will open things up at Miami, with former Coach Diaz (of 3 weeks) and Roche siding with the enemy making for interesting opening day headlines. Idaho and UMass are likely wins, but I don't think Tulane or ECU are shoo-ins. A lot of toss-up games in general will plague Owl fans this season. Vegas has set the over/under win total at 6 games and I think Temple will go over, landing at 7-5. Too many questions on defense and the offense has to figure out what it wants to do before I have confidence in the team competing against the upper-echelon of the league.