When you start running down the list of Temple record holders at wide receiver, you begin to notice an interesting pattern. Of the top 20 players in receiving yards, 9 of them came to Temple during or after the Al Golden years (2005-onward). The other 11 were dispersed between the early 2000s and mid-70's (Source). Additionally, its not like the offense has been a juggernaut since Al Golden came on. They've been top 50 in points per game and total offense just once since 2005 (in each category). To be fair, they haven't needed a strong offense because the defense has been top 25 in several categories during that time. Suffice to say, the wide receiving group at Temple has never been its strong suite. There have been talented wide receivers that have come through. But I don't think any of them are like Jadan Blue.
a decade of change
Trying to pinpoint where the uptick in wide receiver talent has occurred is no easy feat at Temple. I believe Rod Streater is the guy that showed it was possible to make it to the NFL as a wide receiver out of Temple. This isn't to diminish a player like Gerald Lucear, who was drafted in 1982 to Minnesota. Bruce Francis is often overlooked, but he was a very capable WR for Temple just after they got the boot out of the Big East. Generally speaking, there really hasn't been much over the years. Zamir Cobb was another one that tried to give it a go in the early 2000s but couldn't catch on in the NFL. For Rod Streater, going pro in 2011 while the program was rebuilding proved to be a tremendous accomplishment. It also happened to be the same time TE Evan Rodriguez was occupying the middle of the field on his way to a solid NFL career.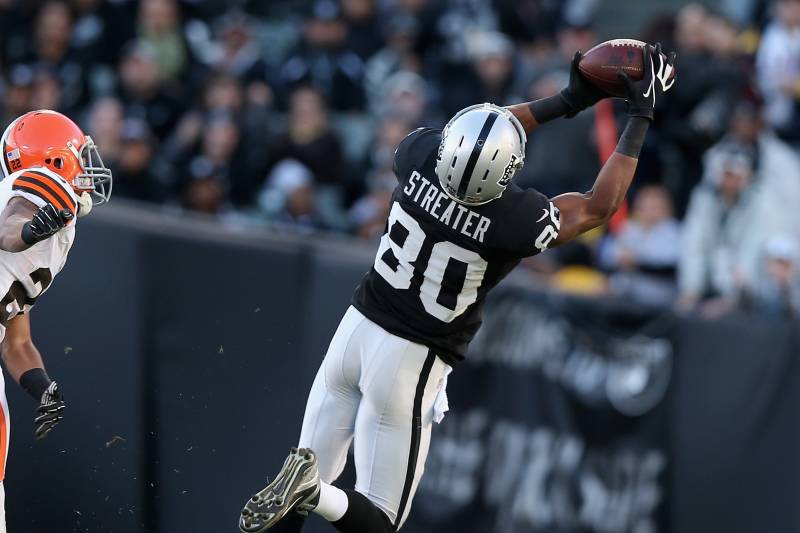 Over the years the talent started to improve. There have been workman-like Temple Tuff guys, like the always reliable John Christopher, Jalen Fitzpatrick, and Ryan Alderman. And then the legitimate NFL bodies started to roll in. Robby Anderson, Adonnis Jennings, Keith Kirkwood, Ventell Bryant, and Isaiah Wright have all made it to the NFL in recent seasons.
And now, the possibilities seem endless on Temple's roster. In addition to Blue, Branden Mack could and should find his way to the NFL. His identical twin in size and stature, Jordan Smith, will start to mix in during games this season. I think Randle Jones and Jose Barbon also have strong seasons while young guys like Kwesi Evans and Nazir Burnett (if his waiver gets approved) will push for more prominent roles and most certainly will be in the starting rotation by 2021. Zae Baines is another highly recruited and talented true freshman to keep an eye on. The talent has arrived, now its a matter of getting them to produce.
nfl production has not been good to temple
Jadan Blue's 95 receptions last season was the most all-time in a single season at Temple. That's pretty cool, but that really isn't enough to propel him to the top of Temple's all-time best. Most Temple fans will point to Robby Anderson as the best overall WR, simply from a big-play and athleticism standpoint. He was able to glide past DB's and made long TD's look routine.
The top of Temple's all-time receiving yards list was pretty talented: Ventell Bryant, Willie Marshall, Bruce Francis, and Gerald Lucear. The one thing most of them lacked was a productive NFL career, something Ventell Bryant has a chance to overcome with the Cowboys. Anderson is headed for fairly prolonged and productive NFL career, assuming he can keep himself out of trouble. He recently reconnected with PJ Walker in Carolina. Rod Streater had an NFL career that spanned 6 years and is now with the Browns as part of their scouting department. The bar isn't very high.
When Jadan Blue gets to the NFL, he will have to continue forging a path for Temple WR's.
what will jadan blue need to do
From a statistical standpoint, Blue will have to repeat his 2019 season. Another season of 90 receptions and 1000 yards receiving and Jadan Blue will be at the top of the all-time receptions list and close to top 3 in total receiving yards (Source). That's not bad for a guy that left the team in 2018 and wasn't even sure he would come back to play football (Inquirer). Last year he finished 7th overall in receptions in the FBS. Another top 10 finish would be him squarely on draft radars and he will more than likely head to the NFL after.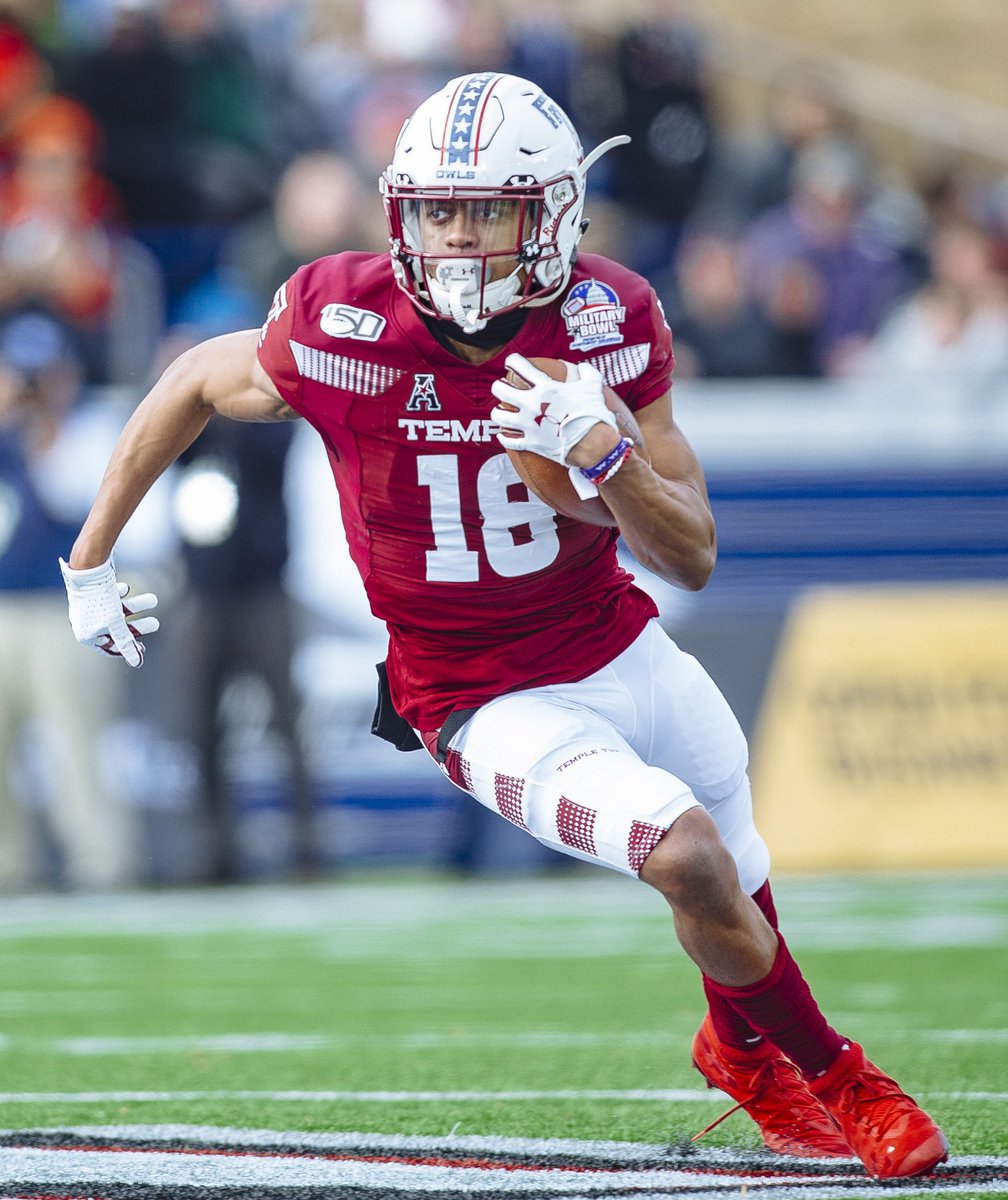 Developmentally, Blue displays great awareness in his routes. He is a smooth route runner and does well finding spaces so the QB is able to get him the ball. He blocks downfield well, something the scouts will love. He is a legitimate and complete WR. He also has pretty good speed and is shifty in the open field. He's got NFL potential written all over him.
With the bar being as low as it is, the only thing stopping Jadan Blue from being the best WR at Temple is if his production falls. Robby Anderson and Ventell Bryant at this point remain at the top Temple's all-time best WR list. They were consistently good for at least 2 seasons at Temple. Simply from an eye-ball perspective, there remains too great of a gap at the moment. Bruce Francis really does not get enough credit either given what Temple football was like in the early 2000's. He still is the leader in receiving touchdowns (Source). So Jadan Blue still needs 1 more year to make his way to the top of the list.
The Blue-print (get it?) is simple: repeat 2019 and get in the endzone more. He has to break into the top 10 receiving touchdowns list, which will require 9 touchdowns this season. That will also place him into the top 5 for receiving touchdowns in a single season at Temple. To put that in perspective, there were 39 other WR's in CFB last season that had 9 or more touchdowns. To help matters, the Temple offense will likely have to do something it doesn't normally do – be a top 50 offense.
Jadan Blue has a bright future regardless.