We are about 40 days away from what is supposed to be the start of the Temple 2020 football season. How the schedule plays out now is anyone's guess, but should Temple take the field this fall, they will have several guys that will be on the NFL radar.
Last year, Temple had 4 players drafted: Center Matt Hennessy (3rd round), DB Harrison Hand (5th round), LB Shaun Bradley (6th round), and LB Chapelle Russell (7th round). Four more players found their way to NFL rosters as undrafted free agenst. To have eight players join NFL rosters in one year is quite the statement for Temple football.
There is no rhyme or reason to my order of players. This is simply a list of guys that I think have NFL potential or could play their way to NFL radars with a strong 2020 season.
Anthony Russo
We are going to start with the guy who touches the ball on each play. Russo has been on the team since 2016, making him and a handful of others the last of Matt Rhule's recruiting class. Russo has seen a lot of change with 3 new head coaches: Collins, Diaz, and Carey. This will be his second full season as starter and this time there are no coaching changes. He should understand the offense better and the OC/QB coaches should be able to figure out what works for Russo. So far he has about 5400 pass yards, 35 touchdowns, and 26 interceptions. Last year his 2800 pass yards is actually 3rd all-time in a single season for Temple. He has the body type and arm strength to make it to the NFL. What he lacks in mobility he can make up for in big time throws, he just doesn't do it consistently. Badly needing to improve his accuracy and cut down on his mistakes, Russo for the most part is not on the NFL draft radar today, but NFL scouts are aware of him. In the right NFL system, he could excel, but he needs a few years to continue on his mechanics. NFL teams love QBs and if Russo improves on his play this year, someone will take a late round flyer on him. Entering this season he is overshadowed by some of the impressive QB play in the AAC, I expect him to play better this fall and enter his name at the top of the G5 QB list. I think he receives some sort of senior bowl or collegiate bowl invite and performs well at the Temple Pro Day.
Projection: 5th-7th
Linwood crump
A fantastic 2018 season came crashing to a halt in 2019 for one of the better shut-down corners in the AAC. If Crump returns back in full speed, he is a no brainer mid-round selection. He runs in the mid-4.40's and can change direction well. Smooth hips, back pedal, and good closing speed. He tends to play aggressively in coverage and needs to improve on his press-man, but for the most part he is going to be a solid NFL CB.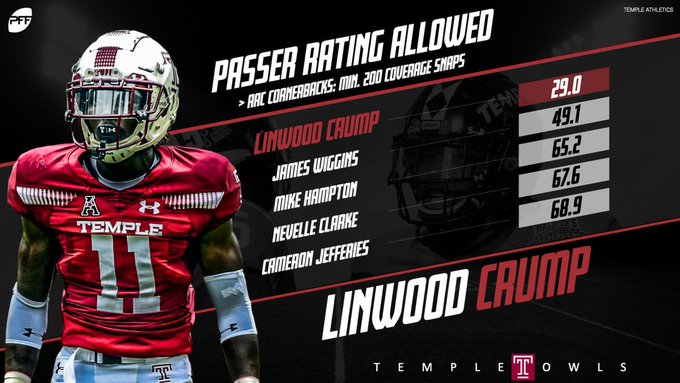 Projection: 4th-6th round
Vincent Picozzi
Stop me if you heard it before: A player walks-on to Temple or is hardly recruited and turns his opportunity into an NFL career. Picozzi could be another guy that fits that description.Temple in recent years has done fairly well on the defensive line, but other than Matt Hennessy, the Owls have not had OL drafted since Dion Dawkins in 2017 and then you're going to have to go back to the early 2000's before the previous OL. It speaks to the overall dearth of NFL talent for 10+ years at Temple and the recent resurgence is really impressive. Picozzi went down injured late last year but still made this year's Athlon All-AAC first team. The starting right guard has 33 games of experience heading into the season and a strong NFL resume. At 6'4 305lb he has adequate size for an NFL guard. Combine and pro day numbers will be important for him but his tape will do most of the talking. Really solid footwork, does great run-blocking. He is by no means a dominant RG and has struggled against some of the more elite competition, but he can more than hold his own.
Projection: 4th-6th round
Branden Mack
The consistent and reliable Mack has another year to prove his NFL talent to draft scouts. He finished first last year among G5 WRs in contested catches (PFF). His 70 yards/game was 8th in the AAC last year, but he also tied for 3rd in the country in drawing pass interference penalties (twitter). He doesn't have the big flashy numbers as some other NFL talents, but he is good at what he does – fights through contact and makes catches when called upon. There is room for the 6'5 220lb WR, but it will come later in the draft, if at all. NFL teams like to deploy tall receivers like him in the redzone or on situational plays. He is neither a burner nor a crisp route runner, but he is reliable and consistent. The single digit Temple Tuff player will make an NFL roster, just not through the draft.
Projection: UDFA/camp invite
Michael Niese
Niese is a grad transfer from FCS Dayton. I am not sure if anyone has him on their draft radar, but Niese comes to Temple after making Pioneer League honorable mention in 2018 and followed that up with first team All-Pioneer League in 2019. The 6'5″ 275 OG will have to prove his worth as he takes a leap up in competition. I would like to see how he does against the AAC DL. I think for now he makes for a strong depth addition at Temple, with an outside shot of being drafted if he plays well at this level.
Projection: 6th-UDFA
Daniel archibong
Maijeh came out of no where to provide additional support at DT for the Owls in 2019. Archibong sort of got lost in the shuffle, but he remains a steady and consistent presence in the middle. He's on Athlon's 2nd team All-AAC and at 6'6 300lb, he has added more weight and has the size for the next level. He is not exceptionally productive from the DT position, but he anchors the line well, knows his assignment, and does not allow for penetration to the second level all that frequently. Strong/quick hands and good lower body mechanics, he will have to work on getting lower but overall he has displayed consistent and reliable results on the field. He will need to be a bit more disruptive this season to stand out more. I can see him rising considerably, but the talent and depth at DL in CFB may be too much to overcome.
Projection: UDFA
CJ PErez
Perez spent his first two years at a JUCO in 2016 and 2017, went to NIU in 2018 and spent 2018 at LG. Last season he switched over to center where he started 10 games before going down to injury. This gives the Owls some depth at center with Hennessy needing to be replaced. Having position flexibility is coveted by NFL teams, but Perez is all of 6'1 290 lb and is going to have to put out strong tape this season and test well. He is great in the run game and has sound technique in pass protection, just not sure he has the NFL body. A good college OL but he may not get the NFL opportunity he deserves.
Projection: UDFA/camp invite
isaiah graham-mobley
"IGM" has done an admirable job as a rotational linebacker, serving along deep linebacking core last season. He will be asked to play a more significant role this year with the departure of last year's starters. He made Athlon's preseason 2nd team All-AAC and has been productive in his minutes. In his career he has 132 total tackles, 4 sacks, and 3 fumble recoveries. At 6'2 225lb, he has adequate size and flashes good speed on film. I think he can play at the next level, just not sure where. Needs to address his coverage ability, shedding blockers, identifying and making adjustments. He has plenty of experience, just needs to put it all together.
As an aside, he has taken a prominent role at Temple University regarding racial injustice and police brutality (more here). As a result of his off the field contributions, he has been named to the Wuerfell Trophy watch list for his positive impact on his community. He embodies the Temple spirit and I do hope he finds success at the next level. I also believe he will make a far greater impact away from the field.
Projection: UDFA/camp invite
william kwenkeu
Kwenkeu decided to take a redshirt season, much in the same way as D'Eriq King did at Houston. Except Kwenkeu knew he would come back as one of the most experience LB's on the roster and will likely be asked to start. He has 39 games of experience, 83 total tackes, 3 sacks, and has earned Phil Steele's Preseason All-AAC 3rd Team honors. He is listed at 6'1″ 230lb and he looks like he could put his paws on the ground a make a run at the QB as a DE. Not the quickest of feet but he is smart and understands where he needs to be. He's going to have to stick as a special teams ace at the next level. A fine collegiate LB, I'm not sure the NFL is in his future.
Projection: UDFA/camp invite
freddie johnson
Johnson made the full time transition to DB last season as a redshirt senior after having been lost in the depth chart at WR. Nothing tremendous on the tape and there was definitely some growing pains last season with big plays given up. Overall he held his own in his transition season. He will continue to develop his skills and learn through his final year. I think he has NFL potential, I just wish he played DB sooner. A strong senior campaign will have him on draft radars like Nate Hairston, who also made the switch to DB in his junior season. If all goes well, Johnson will follow the same path.
Projection: 6th-UDFA
Maybe They Stay, Maybe They Go
This next list will go over some guys that could stay another year and develop or leave for the NFL early. It is of course rather difficult to make projections in the first place, but even more-so for players that may not even declare for the NFL. But that's party of the fun of projections, it's subjective. The draft projections are if they declare this year.
jadan blue
I have written extensively about Blue in a previous article. You can click on the button below for more on that.
Suffice to say, Blue has more than enough NFL potential. His production will have to replicate from the year before. The Biletnikoff Award watch list nominee will likely find himself in bracket coverage as defenses key on him this season. The AAC is loaded with talented WR's this season, so Blue only makes Athlon's 3rd team All-AAC this preseason while making Phil Steele's 2nd team. He has great route running ability, catches the ball everywhere on the field. Not blazing fast but more than enough quickness to elude DB's. Smart in his routes, Blue offers a lot for the next level. He is a favorite security blanket for Russo and will receive plenty of opportunity to showcase his ability this season. If he returns in 2021, he will likely be the best WR in the AAC and a 3rd year of high production will get him selected earlier. I think he leaves early though and gets drafted mid-rounds.
Projection: 4th-5th round
ifeanyi maijeh
The preseason award watch lists keep piling on after a stellar and out-of-nowhere 2019 season. Maijeh has officially been catching the college world's attention. His 52 tackles was 8th on the team and 10 tackles for loss was 3rd. He was a major disruptive force early in the season but lost production in the back-half while dealing with some injuries. He's going to need to replicate his 2019 season, but this time maintain consistency and production. He has legitimate Day 2 talent but needs to continue to work on his counter-moves and anchoring the point. He sometimes finds himself out of position and losing gap integrity. Depending on the type of scheme he gets drafted into will have a significant impact on his NFL development. He has the power and speed to play at the next level as a 3 tech or 5 tech. It will be a matter of improving his play from last season, or at the very least, staying productive throughout the season. If he does return for the 2021 season, I think he ends up in the 3rd round in 2022, or higher. A touch undersized and will need good testing numbers.
Projection: 4th-6th round
Christian Braswell
Primarily a rotational DB in 2018, Braswell was thrust into the starting role after Crump went down with an injury last season. He filled in well and you could see him flash NFL talent. Great speed and quickness to the ball, he has the hips and lateral movement to keep up with most DB's. He did struggle against some of the elite competition in the AAC, but another year to grow as a starter will help his NFL potential. He may still be a year off, but Braswell will be in the league. He made 3rd team All-AAC on Athlon's list and he will likely get some NFL talk once this season is over. If he puts together a strong season, it might be good enough for late round talk. There is a lot of talent this year at DB, so maybe 2021 won't be the best time to leave.
Projection: UDFA
Isaac Moore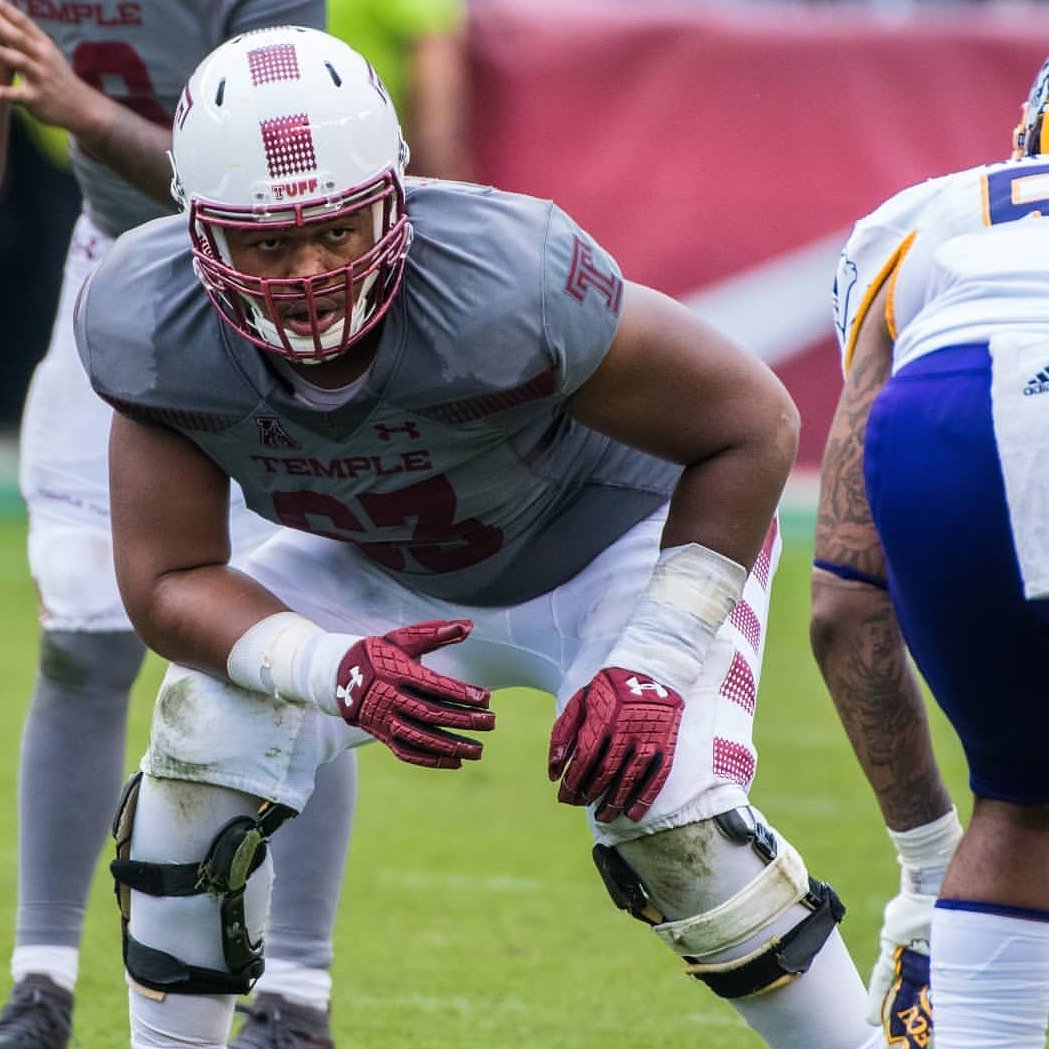 The larger-than-life Swede is currently stuck at home during the pandemic, but assuming he gets over here, he will enter his second season as the starting left tackle. At 6'7″ 305 lb, he had some growing pains and really had to work on his quickness off the line and hand placement. He has to continue to develop his upper body strength, but he has the size for the NFL. I think he has the highest ceiling of all the prospects, but much will depend on how well he progresses this season. Only 2 years of American football (no offense to Swedish football) does not exactly inspire confidence from NFL scouts. He made Athlon's 3rd team All-AAC and will garner plenty of attention as an developmental LT. I think he would go in the mid-rounds next season, but if he leaves early, a late round selection isn't out of the question this season. I don't think he gets drafted this year though unless he absolutely demolishes the opposing DE's this season and protects Russo very well. He needs to improve pass protection especially.
Projection: UDFA
adam klein
Similar to Moore, another season at Temple will help his draft status, but to me he is an NFL talent. He started a few games at RT in 2018 and then spent much of 2019 at RT. The latest new is that he has received some work at center this off-season to see if he can replace Hennessy. He did struggle with some consistency issues and let some mental mistakes hinder his play last season. If he does change positions, he will attract more scouts with some position flexibility. He will also need another season to prove to the NFL he can be a center or right tackle. Either way, I think he is an NFL talent, I'm just not sure he gets drafted if he declares this season. I think he could be in the 5th/6th round next year after 4 years of starting experience.
Projection: UDFA
Others
Kimere Brown and Randle Jones return from injury. If they show up and produce this season they could find themselves invited to an NFL camp. For now, they are well off the draft radar. Joseph Hooper played well in replacement for an injured Picozzi, but for now, I'm not sure if there will be enough playing time for him to turn NFL heads. An adequate college OL does not immediately translate to NFL potential. Ty Mason is a R-Jr but has flashed on occasion. I don't think he is on the same level as Braswell or Crump, but he is a solid college DB.
Final Tally
Of the 15 players listed, I believe 8 are draftable this year. It doesn't always workout that they are drafted, but I believe they have enough talent to warrant NFL rosters: Russo, Crump, Picozzi, Niese, Johnson, Blue, Maijeh, and Braswell. Isaac Moore and Adam Klein are likely to make the NFL, but getting drafted this year seems a bit too far-fetched. They would be more likely to get drafted next season.