Owls head coach Rod Carey trotted off the field at the Liberty bowl last Saturday knowing the Owls let one get away from the Owl. Memphis was up 34-29 in the 4th quarter and had just turned the bowl over thanks to an interception on their own 45. They had been trying to give the game to the Owls, who could do nothing with it. Eventually Memphis pulled away. The Owls went to the redzone 7 times and came away with 29 points. They also had 4 turnovers, a blocked PAT, a failed 2 pt conversion, kickoffs that went out of bounds, and a defense that allowed 24 points off of turnovers. This team isn't very good and that's why they sit at 1-2.
A lot of people look at the numbers and think to themselves, 500 yards of offense isn't too shabby. Anthony Russo had 387 yards and 4 touchdowns, that's pretty good! And to be fair, the Owls offense isn't bad regarding yardage. They have a good offensive line and good skill players. But they can't finish drives and they turn the ball over a lot, two of the most important statistics that determines if an offense is successful. So despite having an offense that can move the ball, it is one of the least successful offenses in the country, which is why it ranks 91st in SP+.
The defense, well they can't get off the field and they can't stop other offenses from getting points. They are 37th in total defense (370 yds/game) but they allow 46% of 3rd down conversions, allow their opponents to convert 86% of the redzone trips, and a solid 36 pts/game. They also only have 5 sacks on the season, joining USF, Charlotte, ULM, and Vandy as teams that have played >1 game and have 5 or less sacks, effectively ranking the Owls tied for 68th out of 72. Navy has allowed 13 sacks this season, so playing them isn't an excuse. Its not all terrible as they have forced 5 fumbles, so far ranking them as tied for 6th in the country.
Enter Tulane, a solid 2-4 record this season and a wonderful opportunity for the Owls to get back on track. This Tulane team does nothing well except for 1 thing…they have a really, really good defensive line. They have the best DL combo in Cameron Sample and Patrick Johnson, both will be playing on Sundays. So far Tulane has 53 tackles for loss (3rd in the USA) and 20 sacks (4th). They also only allow 3.4 yards/rush, good for 17th in the country (excluding teams playing <2 games).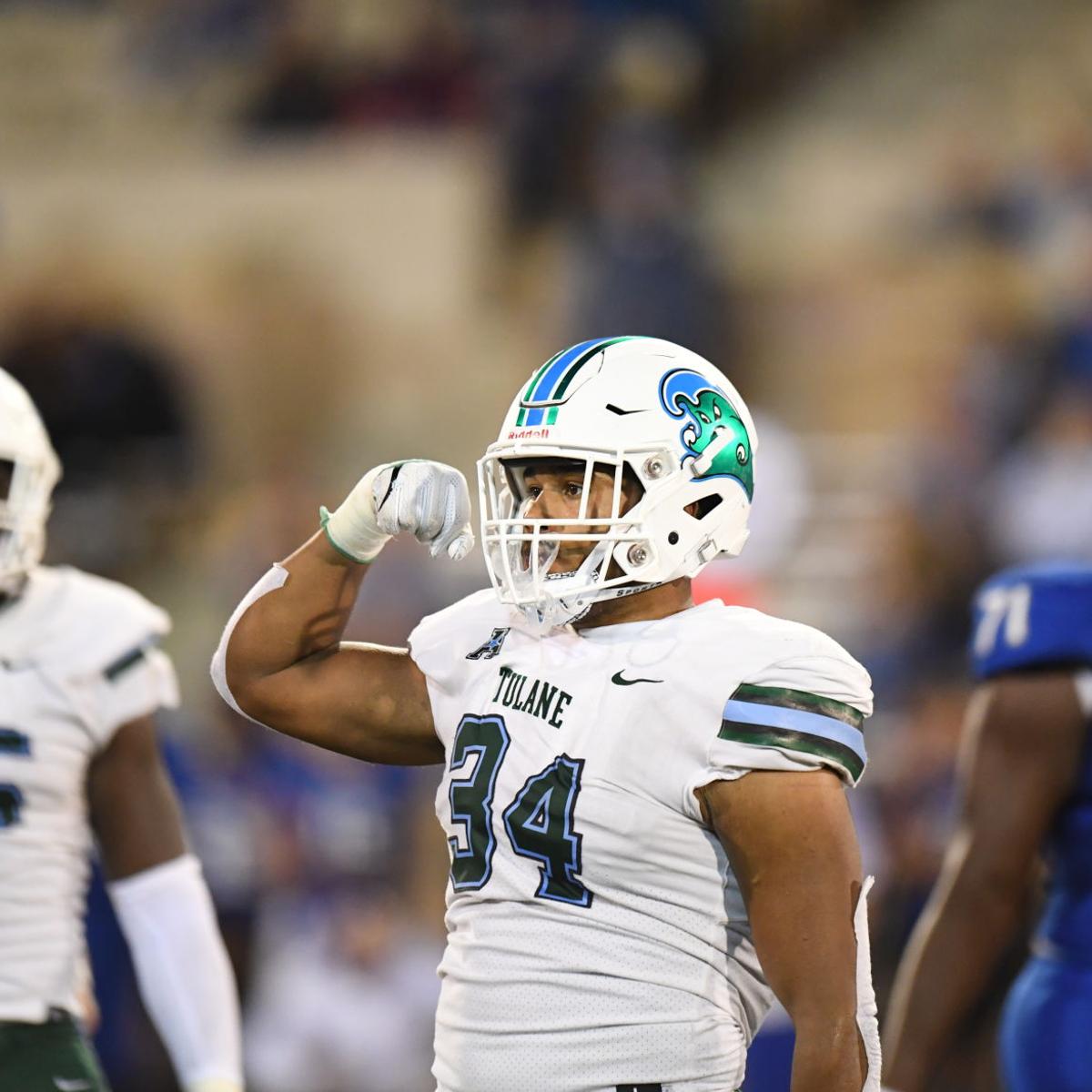 Esentially what this means it that Russo will be in-line for 50+ passes again. Uremovich/Ward are going to go deep in the offensive playbook and throw WRs screens galore to offset the run game. Temple, with its 18th ranked passing offense, will be asked to win the game again. Don't worry, Owls are only tied for most INTs in the conference (6 INTs). USF also has 6, but its spread out between 3 different passers. Russo is the only QB in the conference with 5 or more interceptions.
Redzone is an issue as well since the Owls are somewhere in the bottom 10% in redzone TDs. Carey has said its the playcalling, which appears to be the same each week anyways despite the issues. So probably more of the same which looks something like: play 1 – run up the middle, play 2 – WR bubble screen, play 3 – fade to the endzone. More of that coming up I'm sure. And if I know that, than Tulane's DC knows it too. And all of CFB…..because they keep doing it
Vegas was thinking this game was a pick'em and has now slid to Tulane -4. The advanced stats, SP+ and Massey composites, both give Tulane a slight advantage. This isn't by accident. Tulane's strength at DL and Russo's propensity to make errant throws will be a focal point this Saturday. He will be rushed and asked to make quick decisions.
For Temple football, this game and season represents a turning point in the program. A slow decent into mediocrity and bad football that coaching turnover has gifted. Gone are the days where a half-decent Temple team could rely on special teams to tilt the game in their favor. Ed Foley's departure may be the most significant contrast in Temple football's production. This team stinks at special teams. They cannot generate any big plays…except for the other team. Poor special team tackling, bad angles, terribly kicking, shaky extra points, blocked kicks, kickoffs out of bounds, can't get the ball kicked down to past the 20, balls sailing over the kickers head or a snapped football dragging across the ground as if pulled by a string (last year's punt team adventures). Its a complete embarrassment after this unit lead the nation in ST blocked kicks and TDs.
It appears that Temple and Tulane are evenly matched teams that both badly need a win. For Temple, another loss would be a clear signal that changes need to be made. And I don't have any belief in this Temple administration to make things happen. Not this year at least.
So we will be stuck with what we have….
The Rod Carey-lead mediocre slow death of Temple football. The same coach that NIU faithful jeered goodbye after he took their Heisman and BCS threatening Huskies and drove them into dust.